In The Blitz, RotoViz writers react to the latest news and help you place it within the context of our 2020 research and recommendations.
Tennessee Titans wide receiver A.J. Brown continued his strong success in Week 6 following an injury that sidelined him for multiple weeks. A disappointing Week 1 (8.9 PPR) followed by three weeks of no games (two lost to injury, one to postponement) left Brown a seemingly forgotten man. Now, with back to back 20-plus-point performances, he's firmly back on the fantasy radar.
Tennessee Titans wide receiver A.J. Brown caught five of seven targets for 56 yards and two touchdowns in Sunday's 42-36 overtime win over Houston. Brown has three touchdowns in two games since returning from a two-game absence due to a knee injury. As the No. 1 wide receiver in a high-powered Titans offense that's averaging 32.8 points per game, Brown should maintain plenty of fantasy appeal in Week 7 despite a tricky matchup against the Steelers. He should play as a low-end WR1 with a high ceiling.
Rookie Sensation
Everyone remembers Brown's rookie season. After Ryan Tannehill took over as the starting quarterback last season, Brown went on a run to finish off one of the most impressive rookie seasons in history. He finished the season by appearing in all 16 games, scoring eight touchdowns, topping 1,000 receiving yards, and averaging over 20 yards per reception.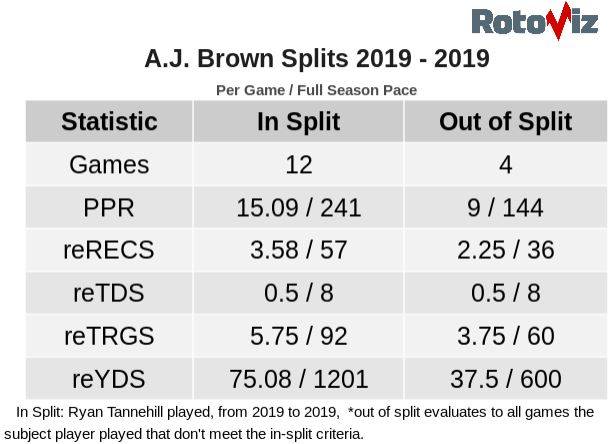 This offseason, he rocketed up draft boards and become one of the most coveted cornerstone pieces for dynasty teams. A young wide receiver who posted strong college production numbers, declared early, and then went on to have one of the most efficient rookie seasons in NFL history was garnering hype at an unprecedented level. Knowing what we know now, his college production comps are even more impressive.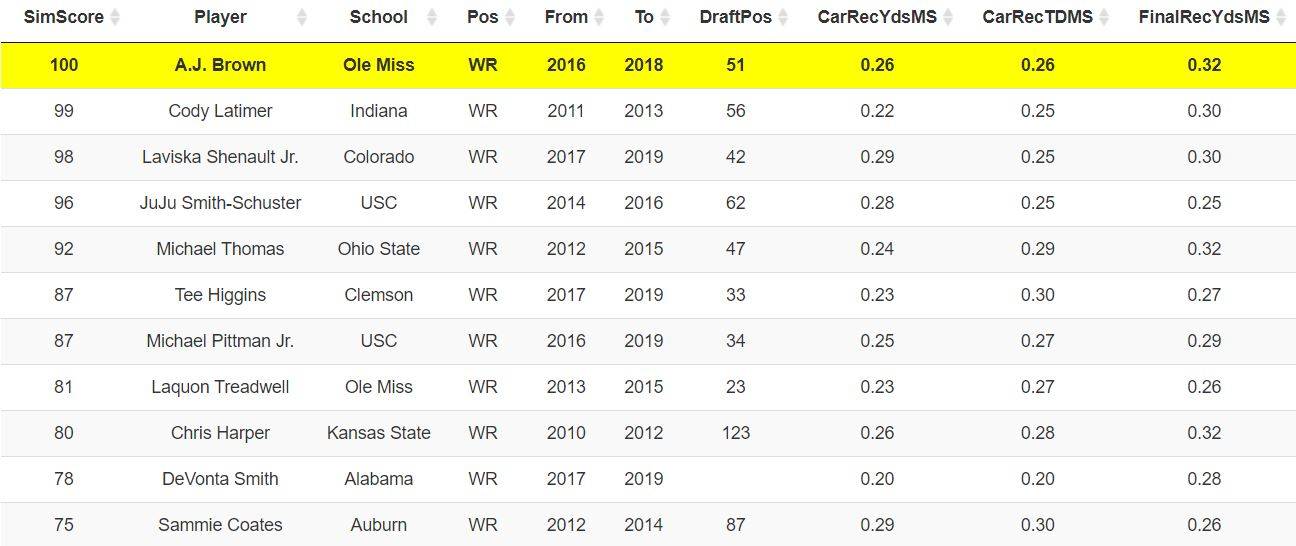 Dynasty WR1
Brown's former college teammate has been rightfully stealing the spotlight this season. D.K. Metcalf is the WR5 as of this writing and has scored five touchdowns through five games. Despite Brown's elite 2019 season, his absence from the field early this season, combined with Metcalf's rise, has led many to forget that Brown was more productive both last year and in college. While both Brown and Metcalf should be ranked as dynasty WR1s, I would still prefer Brown over his Ole Miss teammate.
Your buy-low window, if there ever was one, slammed shut this week. Brown has topped 20 fantasy points in back-to-back weeks; something Metcalf has yet to do this season. The absence of Corey Davis has certainly helped free up potential targets for Brown, as he is averaging eight targets per game through three games this season. Still, his elite athletic profile and alpha wide receiver traits offer him WR1 upside each week.
Looking ahead, the Titans' wide receivers have an above-average schedule. Their offense is firing on all cylinders and seems to score every time they get into the red zone. The Titans' identity may still be Derrick Henry, but they have scored over 30 points in three straight weeks, which should continue to provide Brown the opportunity for big games. He remains a buy-high candidate for me across all league formats.