In The Blitz, RotoViz writers react to the latest news and help you place it within the context of our 2020 research and recommendations.
Sometimes, I forget how young individual players are based on how long they've been in the league. The prime example is JuJu Smith-Schuster. He's in his fourth year in the league and is only 23 years old. Another player who I keep having to remind myself is younger than I think is Ronald Jones. The youngest running back in the 2018 class, he enters his third season at just 23 years old. In Week 6, Jones topped 100 rushing yards for the third consecutive week and appeared more than capable of handling lead-back duties in Tampa Bay.
Tampa Bay Buccaneers running back Ronald Jones II carried the ball 23 times for 113 yards and two scores along with two catches for eight receiving yards. Jones II exceeded 20 touches and 100 scrimmage yards for the third consecutive game, proving head coach Bruce Arians right as he continues to trust him. It should be noted that Leonard Fournette (ankle) was a late scratch, so he'll eventually be back to eat into some of Jones II's workload. However, there's no denying that the 23-year-old is Tampa Bay's lead back- he is the first Buccaneers' back to hit the 100-yard rushing mark in three straight since Doug Martin. Jones II should be fired up again in Week 7 against a suspect Raiders' run defense.
Promising Collegiate Profile
Jones, a second-round pick in 2018, had a disappointing rookie season. There's no other way to say it. He only carried the ball 23 times and was essentially a non-factor the entire season. His 2019 season was much improved: he topped 1,000 scrimmage yards and totaled six touchdowns.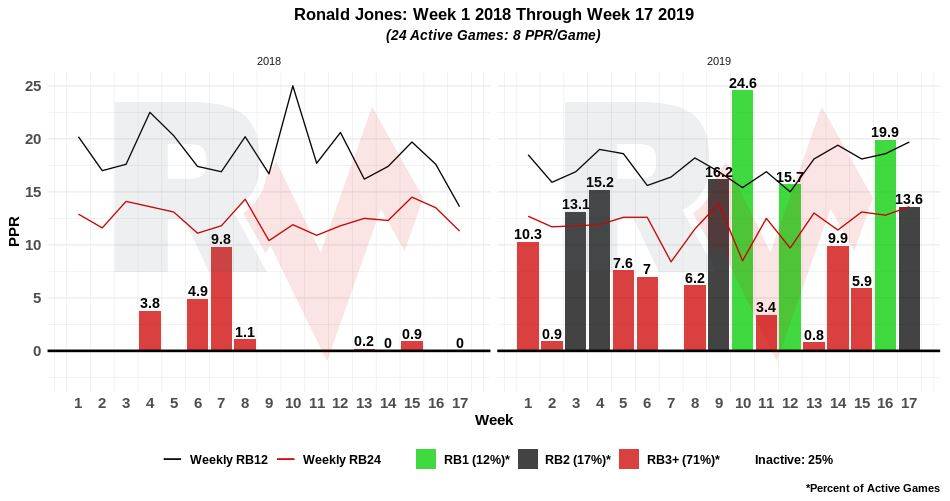 However, it wasn't just his box score numbers that were markedly improved; check out the other metrics in which Jones topped fellow running back Joe Mixon in 2019.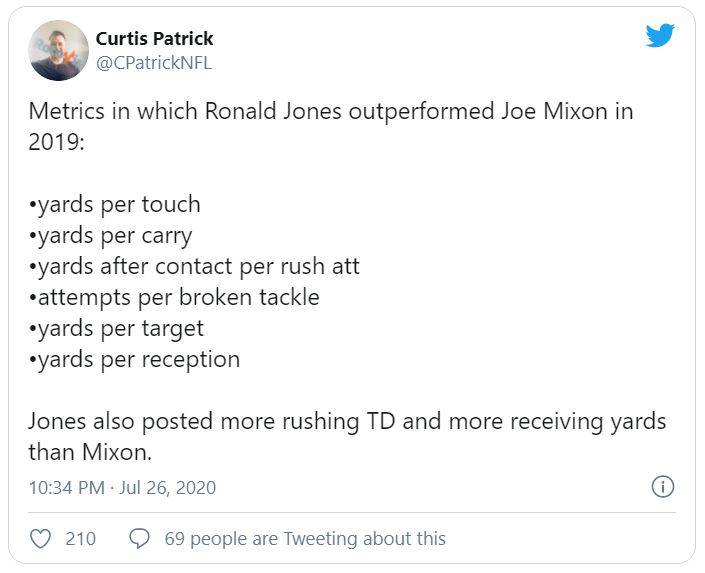 There were more than enough tangible reasons to be excited for Jones heading into both 2019 and 2020. His early breakout age in college (20.4) placed him in the elite sub-21 breakout age category that more than doubled the hit rate of success of the over-21 group. Jones also played his entire rookie career at age 21, which served as another strong indicator of future success. Now, in his third season, Jones appears ready to truly breakout.
New Quarterback, New Opportunity
Jones spent the offseason improving all facets of his game, and the early returns are promising. The offseason additions of both LeSean McCoy and Fournette, and the drafting of Ke'Shawn Vaughn, have all raised concerns about how dependable Jones would be for fantasy. The last three weeks have put those concerns to rest.
Jones' averages during Weeks 4-6: 20 carries, 110 yards, 0.6 touchdowns, 20.1 fantasy points.
That's strong production from an offense that looks like it's starting to click as critical players get healthy, and chemistry continues to build between new quarterback Tom Brady and the offense. Jones is playing at a high level, is getting a large workload, and has been efficient with his touches. That should keep him in your starting lineup each week moving forward. If anyone in your league is not sold on Jones and his role on the Buccaneers offense, add him to your dynasty squad.