In The Blitz, RotoViz writers react to the latest news and help you place it within the context of our 2020 research and recommendations.
Every season brings forth a seemingly unknown player. This player bursts onto the scene by seizing an opportunity and running with it. This season, Travis Fulgham is that player. A late Day 3 draft selection out of Old Dominion, Fulgham has suddenly found himself atop the depth chart for the Philadelphia Eagles. After four weeks of strong production, Fulgham is making a strong case to be the season's top waiver pickup.
Philadelphia Eagles' wide receiver Travis Fulgham remained very heavily involved in the Eagles offense in a Week 7 win. Fulgham was targeted a team-high 11 times, making five catches for 73 yards. It was the first week that Fulgham was on the active roster where he did not score a touchdown, but he continued to operate as the surprising WR1 on the Eagles offense. With DeSean Jackson injured once again and looking like he'll miss even more time, Fulgham season looks like it will continue in Week 8 against the Cowboys.
Older Rookie Who Got His Chance
A four-year starter at Old Dominion, Fulgham was an older rookie. He broke out during his senior season (age 23) and was drafted by the Detroit Lions in the sixth round of the 2019 NFL Draft. He received a total of three targets as a rookie and did not record a reception.

What I found most fascinating when taking a closer look at Fulgham is who he closely resembled from an athletic measurable standpoint. Now, to be sure, a player needs to perform on the field. He can't just show up on a stat sheet or perform well in a combine. That said, check out some of his top comps via the RotoViz Combine Explorer.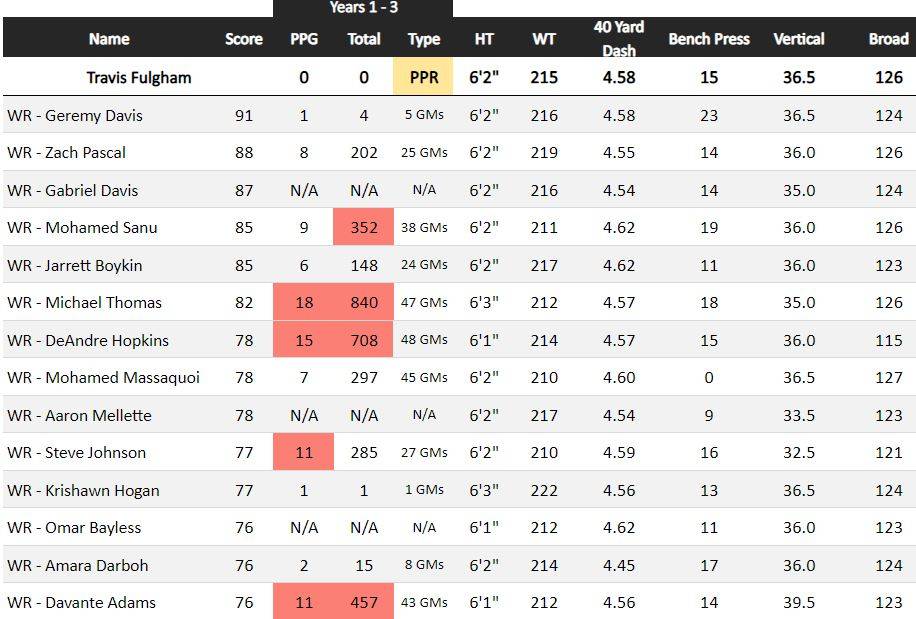 You'll be hard-pressed to find a more robust set of athletic comps for a player. It's worth mentioning that even some of the most productive wide receivers in the NFL didn't necessarily crush at the combine. There is certainly more to a receiver than that, and Fulgham is steadily building his case.
Looking Ahead
Fulgham finds himself as one of the most widely added waiver wire picks up and sits near the top of the points/game list through four weeks. He's received double-digit targets or scored a touchdown in four straight games.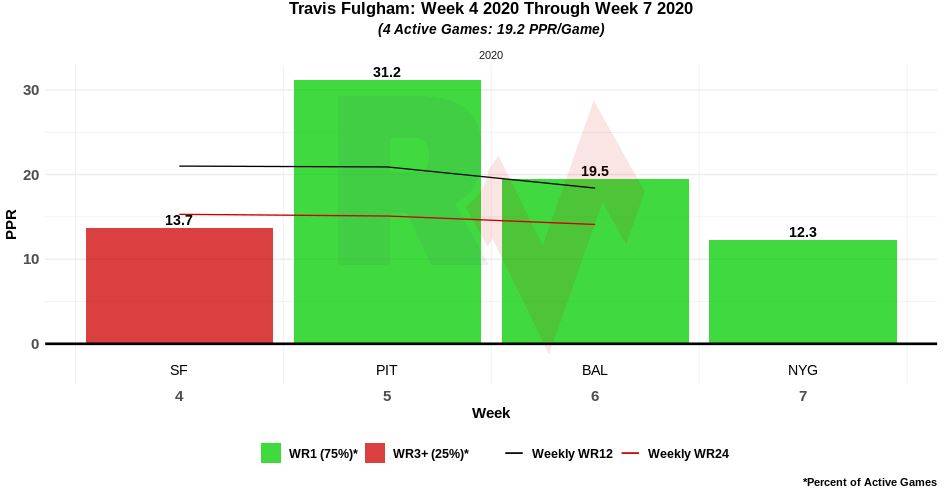 The hopeful return of Jalen Reagor, Alshon Jeffrey, Zach Ertz, and Dallas Goedert could all factor into Fulgham seeing less volume. However, the injury bug has long been a resident of Philadelphia, and even if/when those players return, it will be hard for the team to discount what Fulgham has been able to do entirely. He's bucking the traditional metrics for a young player, but outliers are always fun to root for. If someone still doesn't believe what they've seen on the field, see if you can add this exciting player to your dynasty team.