In The Blitz, RotoViz writers react to the latest news and help you place it within the context of our 2020 research and recommendations.
The Cincinnati Bengals lost a divisional heartbreaker to the Cleveland Browns in Week 7. The offense, headed by rookie quarterback Joe Burrow, continues to move the ball and put up points, but the defense has given up at least 23 points in six straight weeks. Thankfully, fantasy managers are enjoying the offensive output each week. For wide receiver Tyler Boyd, he tied his season-high for targets (13) and enjoyed his best game of the season.
Cincinnati Bengals wide receiver Tyler Boyd caught 11 of his 13 targets to finish the Week 7 matchup against the Browns with 101 yards and a score. After fizzling out against the Colts last Sunday, the 25-year-old recorded one of his most convincing performances of the 2020 campaign. Boyd has now logged at least eight targets in five of Cincy's seven contests and should continue to benefit from the stellar play of rookie signal-caller Joe Burrow. However, things may get difficult for the former Pittsburgh Panther in Week 8 against the Titans, with Tennessee looking to rebound after suffering its first defeat of the year against the Steelers.
New Quarterback, New Opportunity
Boyd has enjoyed a production stretch of seasons, topping 100 targets, 75 receptions, 1,000 receiving yards, and five touchdowns in each of the last two years. Rarely flashy, he's been a reliable, consistent producer for fantasy football.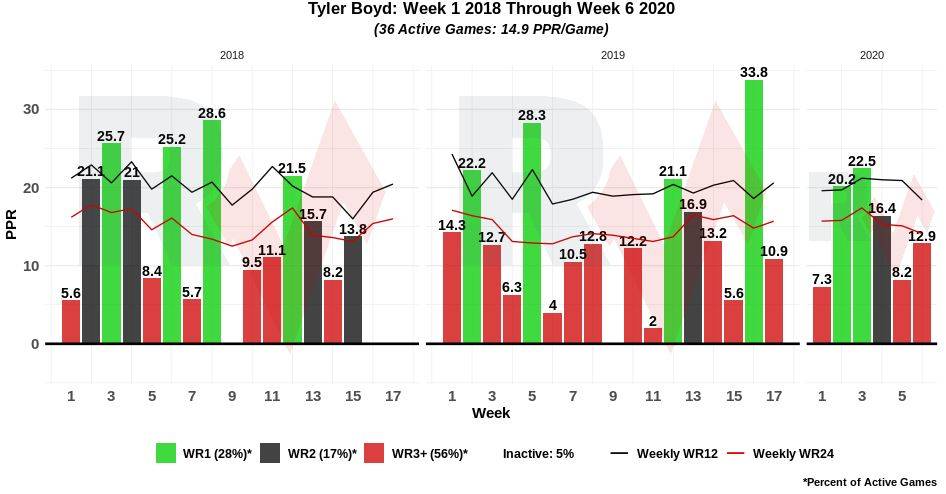 The selection of Burrow this past spring offered a fresh start for Boyd and the rest of the offense. In recent years, the presence (or lack thereof) of A.J. Green has dampened the perspective many had of Boyd. It was questioned whether he could perform as the team's WR1 without Green on the field. Boyd showed that he could over the last season and a half. It was questioned what his role would be should Green return this season. Once again, Boyd is showing he can handle a lead role.
Heading into his Week 7 matchup, Boyd was top 15 among wide receivers in targets, receptions, and receiving yards. With Green nearing the end of his playing career, Boyd has an excellent opportunity to capitalize on an already strong start to this new chapter of his career.
The Perfect WR2
I certainly mean no disrespect for Boyd by calling him the perfect WR2. The wide receiver position is deeper than it has ever been, and I always feel like quality players are missing whenever I rank wide receivers. That said, Boyd finished as a mid-WR2 each of his last two seasons and appears poised to finish that way again. His blend of target volume and floor coupled with upside makes him appealing in that WR2 range.
Through seven weeks, it appears as though Burrow is more than capable of supporting not only Boyd but other fantasy-relevant options as well (Tee Higgins). Burrow is averaging more than 40 passing attempts per game and has crested 300 passing yards in five of seven games. That volume, coupled with the continued growth and chemistry that Burrow and Boyd will establish, is more than enough reason for me to consider buying high on Boyd. He's a young, talented wide receiver tied to a young, star quarterback.