In The Blitz, RotoViz writers react to the latest news and help you place it within the context of our 2020 research and recommendations.
It has been a challenging season for the Denver Broncos. Multiple injuries to critical pieces of their offense have derailed an otherwise promising cohort of offensive playmakers. Wide receiver Courtland Sutton was lost for the season early on, and quarterback Drew Lock missed two games of his own.
However, things are starting to look up. Despite dropping their Week 9 matchup, several offensive skill position players are starting to come into their own. One, in particular, is wide receiver K.J. Hamler, who saw 10 targets this weekend.
Denver Broncos rookie wide receiver K.J. Hamler was targeted 10 times in Sunday's loss to the Atlanta Falcons, catching six of those passes for 75 yards. Hamler entered the game with just 18 targets on the season, so this explosion in usage was a bit unexpected. It's unclear if we can expect this trend to continue, but Hamler's at least worth a waiver add in 14-team leagues because of his upside.
Speedy Rookie With Upside
Hamler was a second-round selection out of Penn State this past spring. His college production numbers are not eye-popping, but they demonstrate his efficiency and utilization in both the receiving and running games. He added 17 rushing attempts in his two seasons to go with his 99 receptions.

His college production comps offer more insight and excitement into what Hamer could provide at the NFL level. He was the second receiver taken by the Broncos after they spent a first-round pick on Jerry Jeudy. After the loss of Sutton, Hamler has been thrust into a larger role and has responded well by scoring his first touchdown and seeing 13 targets across his last two games.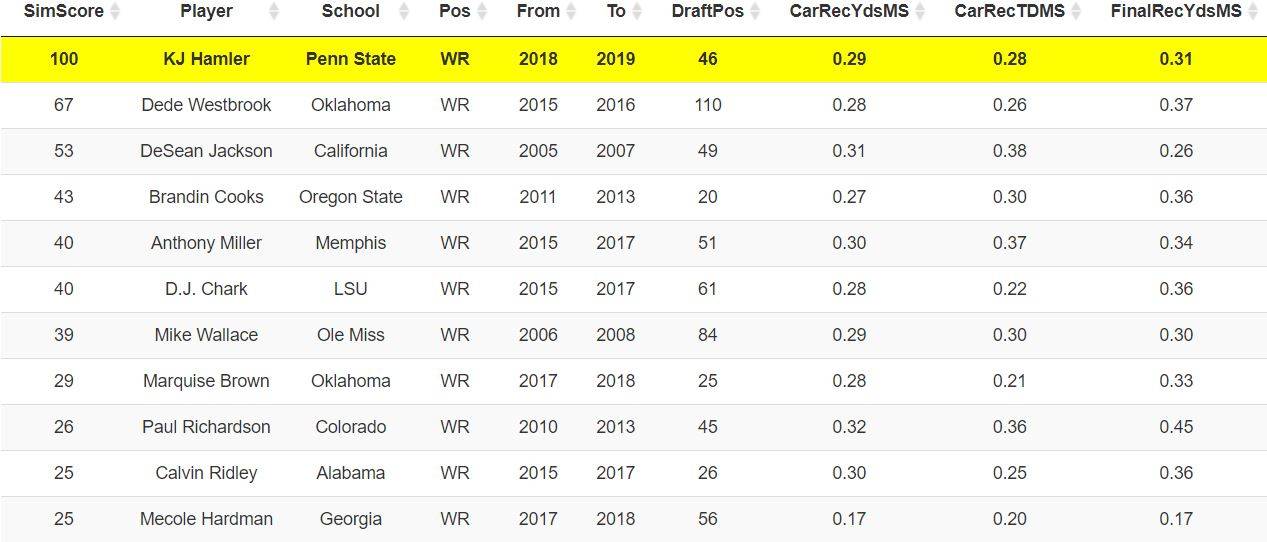 How To Play It Moving Forward
Before this season, Travis May had Hamler as his 20th-ranked rookie in his pre-combine series. He noted his elite speed, route running, and ability to create separation. However, he highlights his small frame and the injury he sustained before the combine. Hamler doesn't profile as an alpha wide receiver, but he shows that he can be a productive fantasy asset when given opportunity.
Looking ahead, Hamler falls perfectly into a category of players that I would like to buy in dynasty leagues and stash on my bench for the remainder of the season. He was almost certainly selected in your rookie draft this past offseason and, up until Week 9, had done very little in terms of fantasy production on the field. Even prior to this season, Shawn Siegele tabbed him as a value in dynasty startup drafts. Snag him as part of a package deal and stash him, or start him if you need a deep flier and enjoy his ascension as he becomes more comfortable at the next level.