The Strength of Schedule Streaming app allows you to see which players have the easiest or most difficult upcoming schedules, a potentially league-winning edge that gives you the opportunity to buy players right before they explode in plus matchups.
Buy
Ryan Tannehill
If you're still reading this weekly piece, I hope that means you either enjoy my work or have reached the second round of your playoffs. In either case, I'm glad you're back! My goal is to highlight players to target and fade heading into Week 15. To begin, quarterback Ryan Tannehill of the Tennessee Titans. Running back Derrick Henry has rightfully been stealing the spotlight of late and for a good reason. He single-handedly thrashed the Jaguars in Week 14 and appears ready to continue his late-season dominance. However, don't be too quick to dismiss Tannehill.
With the attention from the fantasy community and upcoming Titans' opponents focused on Henry, it's easy to lose sight of just how efficient Tannehill has been once again this season. His volume isn't there as he ranks outside of the top 15 in passing attempts, passing completions, and passing yards, but he makes up for it with incredible efficiency. To date, he's inside the top seven in passing touchdowns, quarterback rating, fantasy points over expectation/game, and total points. His Week 15 matchup bodes well for continued success and strong fantasy production.
Quarterback Strength of Schedule – Week 15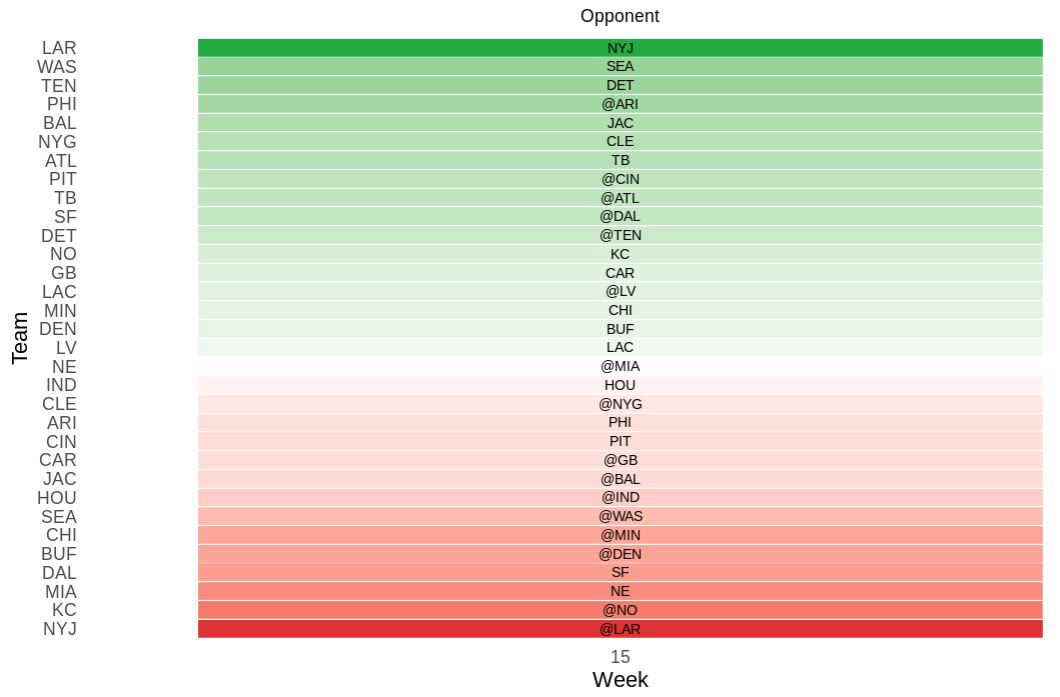 Russell Gage
Wide receiver Russell Gage of the Atlanta Falcons has been a streaky, unpredictable player throughout much of this season. He kicked off the year by ripping off 21 targets and a touchdown over his first two contests, but then failed to crack six fantasy points over his subsequent three weeks. The presence of Julio Jones and Calvin Ridley admittedly caps his upside, but he's been seeing almost seven targets/game since Week 7.
Jones has missed four games this season with nagging injuries and has a legitimate chance of sitting for the remainder of the season. If this happens, Gage immediately becomes more intriguing as a potential home run option in the fantasy playoffs. His splits with and without Jones this season have not been what you'd like to see, but the opportunity to make an impact on this offense is too good to ignore. If nothing else, Gage could be a tremendous late-season addition to your dynasty roster to stash until next season. He's played well in spurts this season and could see an expanded role moving forward.
Wide Receiver Strength of Schedule – Week 15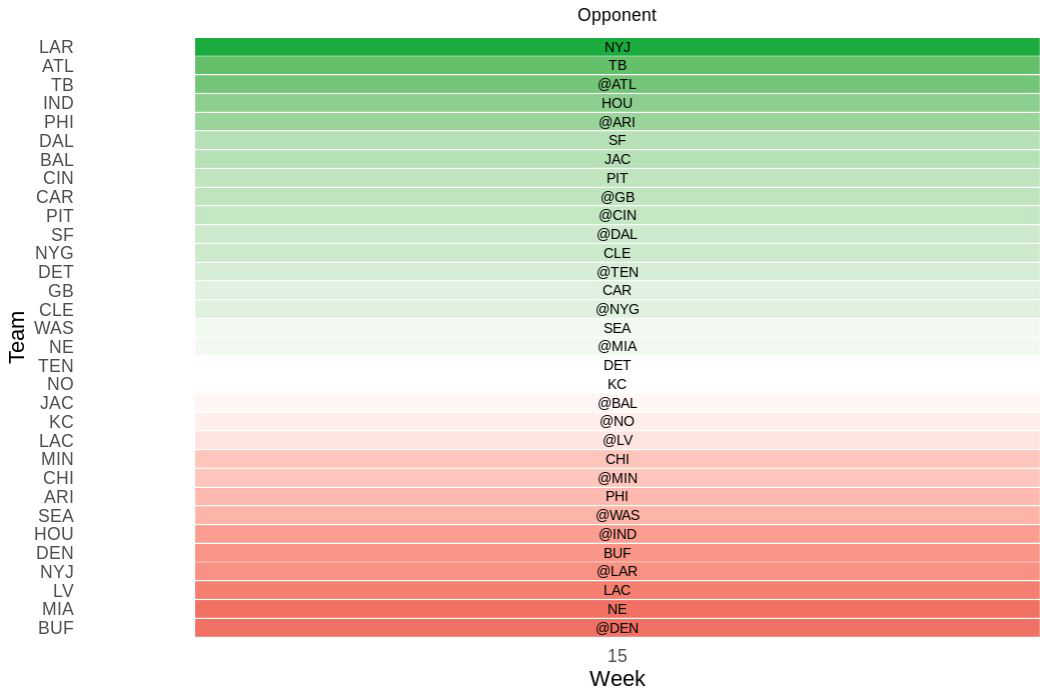 Amari Cooper
I wrote a Week 14 reaction piece on Dallas Cowboys wide receiver Amari Cooper following yet another impressive performance from the young veteran. Once known for his boom-or-bust production that left fantasy managers equal parts exhilarated and demoralized, Cooper has been the model of consistency in an otherwise inconsistent season. Despite losing quarterback Dak Prescott in Week 5, Cooper has maintained a strong production profile and currently sits as a fringe WR1.