Are Achilles tendon tears still devastating injuries for running backs? Dr. Jeffrey E. Budoff answers this question and tells us what it means for Marlon Mack.
Traditionally, Achilles tendon tears have been a devastating injury for NFL running backs, robbing them of the speed and burst necessary to play at a competitive level.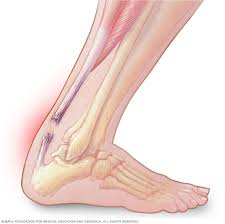 The Achilles tendon is like a tightly tensioned rope that transmits the high level of forces from the calf (gastrocnemius and soleus muscles) to the foot. The gastrocnemius-soleus muscle complex is, per unit volume, the strongest muscle unit in the body. Without efficient force transmission, the acceleration/burst from these muscles cannot be transferred to the foot, losing power that elite competitive athletes can't afford to lose.
In the past, few RBs returned to their prior level of performance following Achilles tendon tears and subsequent surgical repair. Fortunately, newer surgical techniques and better rehabilitation protocols have made it more likely to return to NFL play. However, it's hardly a sure thing and these are still considered devastating injuries.
Let's use an illustrative example, like Marlon Mack, who tore his Achilles tendon Week 1 of the past season. Mack was placed on IR and underwent surgical repair. The question now is: what can we expect from his 2021 season?
What Does The Achilles Injury Mean for Marlon Mack?