When the NFL's most prolific rushing attack adds an explosive rookie running back with an early-round draft pick, people have the right to get excited. This was certainly the case in 2020 when the Baltimore Ravens selected J.K. Dobbins in the second round of the NFL Draft. Dobbins had his moments in his first season. But just how good a year was it? Dobbins is the latest player we spotlight in our rookie review series.
By the Numbers
The first thing that we can celebrate with Dobbins was his efficiency. Despite seeing only the 33rd most rushing attempts in the whole league, he was able to post the 16th most rushing yards. This was due in no small part to his league-leading 6.0 yards per attempt.
Dobbins was certainly efficient. But in no way can it be claimed that he was a workhorse in the Ravens backfield. The presence of Gus Edwards, and to a lesser extent Mark Ingram as the season went on, did put something of a cap on Dobbins' workload. He averaged only 10.5 opportunities per game over the course of the season. He never saw more than 17 in a game. Dobbins had double-digit rushing attempts in each of his last six games of the season. But he never had more than 15. He rushed for 160 yards in the regular-season finale against the Bengals. Even these yards came on a mere 13 attempts.
Dobbins did find a nose for the end zone almost immediately, with two rushing scores on his NFL debut in Week 1. He then failed to find the end zone in his eight games. But he ended the season with seven scores in the final six games, scoring at least one in every game.
Dobbins came into the NFL on the back of 71 receptions for Ohio State. So he was no mug as a pass-catcher. But the Ravens did not take full advantage of this skill set. Dobbins had just 18 receptions all season long. He had just two games with more than two receptions. In the season's final six games, Dobbins saw a mere four targets. He caught three for 32 yards.
From a fantasy point of view, Dobbins barely registered in the season's first 10 weeks.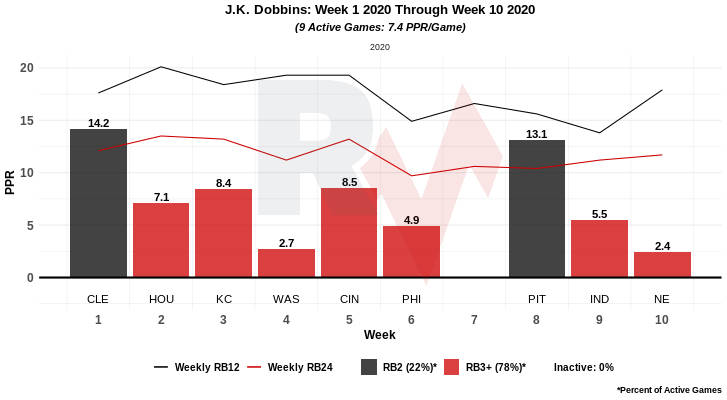 But as his opportunities increased in the season's closing weeks, so too did his fantasy production.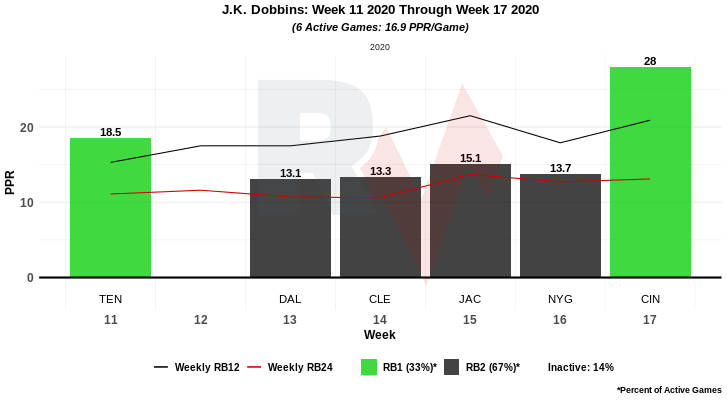 He was good. But one can't help but feel that he could have been so much more.
HISTORICAL COMPS
In order to find players who enjoyed comparable seasons, I did what we've done in the past when carrying out this series. I set the RotoViz Screener to find rookies from 2010 to 2020 and selected some basic production and usage numbers as variables. Then I asked the Screener to find seasons comparable to my target player — in this instance, Dobbins.