Back in March 2020, a revered and much-respected writer for RotoViz[1]This writer looks a bit like me, and even lives in my house. wrote that Arizona State wide receiver Brandon Aiyuk could be the Deebo Samuel of the 2020 NFL Draft. As if to amplify this comparison, the same team that drafted Samuel in 2019, the San Francisco 49ers, took the plunge and spent the 25th overall pick on Aiyuk. So how did his first year in the NFL go? Aiyuk is the latest subject of our Rookie Review series.
By the Numbers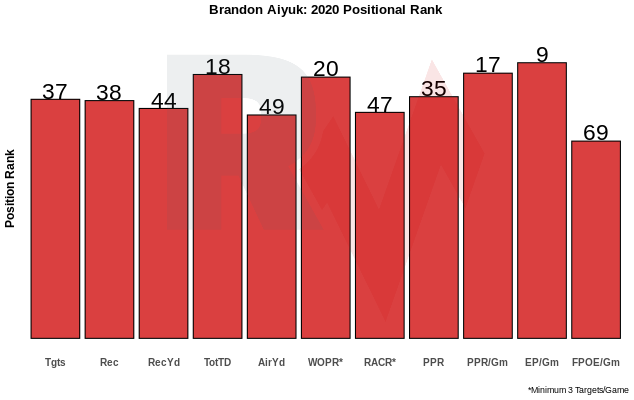 Aiyuk was not exactly a monster producer as a rookie. But you have to love what he did whenever he got the ball. Finishing No. 9 in Expected Points per game as a first-year player is not a feat to be sniffed at.
It would be tough to describe Aiyuk's workload as a rookie as excessive. Still, he commanded five or more targets in nine games in 2020. Indeed, he saw at least 11 in four outings. He converted 16 targets into ten grabs for 119 yards against the Football Team in Week 14. This was one of two games in which Aiyuk eclipsed the 100-yard mark. He had at least 50 in seven games. He gained 73 or more in six consecutive games between Weeks 7 and 15.
Aiyuk finished the season with 60 receptions for 748 yards. In all, Aiyuk had five or more receptions in nine games. Aiyuk commanded a decent amount of work whenever the 49ers hit the opposition red zone. He drew 14 targets in this area of the field, bringing in nine.
Aiyuk scored five touchdowns through the air and added another two on the ground. This included one of the plays of the season, in which he stole the soul of an Eagles defender on his way to a 38-yard touchdown run in Week 4. But unlike Samuel in his rookie season, the 49ers did not make much use of Aiyuk in the ground game. Aiyuk had just six carries all season for 77 yards. Three of those attempts came in Week 3.
The 49ers were ravaged by injuries on both sides of the ball, which meant that they were able to get Aiyuk and Samuel on the field in the same game just six times.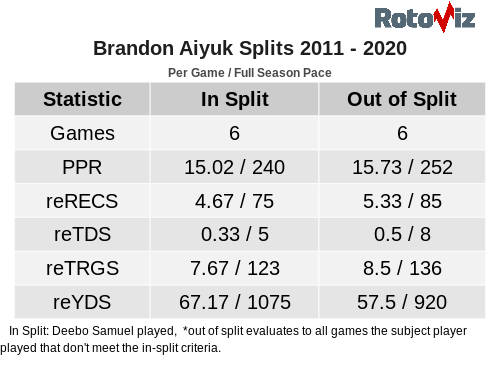 Aiyuk enjoyed more opportunities in the games in which Samuel missed. But his efficiency dropped in these games, which kept his fantasy output at about the same level. This was due to Aiyuk finding the end zone more regularly in the games in which Samuel sat out. Speaking of fantasy output…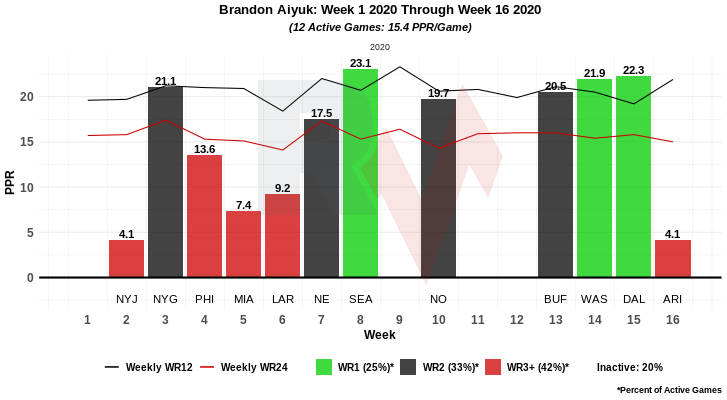 While not a fantasy stud, Aiyuk was at least fairly consistent. Between Weeks 7 and 15 he averaged more than useful 20.8 PPR points per game. His only two stickers came at the very beginning and the very end of his rookie year, with 4.1 points against the Jets in Week 2 and the Cardinals in Week 16. However, these performances can be partially explained away by the 49ers gameplan in both of those games. Despite playing 71.4% and 92.3% of the snaps in those games, Aiyuk ran just 23 and 22 routes.
HISTORICAL COMPS