Bjorn Yang-Vaernet examines which players on the waiver wire are worth prioritizing for Week 17.
Happy semifinals/finals week in fantasy football playoffs. I hope everyone has gotten the lucky breaks they needed to advance. On my end, I needed to survive a good game from the Buccaneers (Tom Brady, Mike Evans, and Chris Godwin were all on the other team). Luckily, Brady and the crew continued to struggle in converting drives into TDs and I am on to the finals. The broader takeaway is that anything can happen in a single week, so good luck to all!
A housekeeping note — with so little time left in the season, I'm turning this waiver wire article into more of a space for players that can be started right away. Stashes don't have much value at this point, while players that can fill in for injured or ineffective players do. For this reason, there are going to be no stashes highlighted in this and next week. I want to state the obvious — don't drop those high-value backup RBs. However, feel free to safely drop the third RB or the fourth WR on a team. Let's get these wins!
The waiver wire is one of the most important pieces of season-long draft leagues. It is the easiest way to acquire new players and every year there are gems to be found. The goal of this article will not only be to highlight which weekly breakout players to prioritize but find others to preemptively pick up before the breakout happens.
This article will be published once on Mondays with a quick run through my favorite pickups and again on Tuesdays with more charts and data points added in.
This article will only reference players that are less than 50% owned in ESPN leagues. The players are categorized by position group and within each group is the order of how I would prioritize them. In lieu of free agent acquisition budget percentages, which are highly dependent on the makeup of each league, I have highlighted which players I would prioritize on the week.
Quarterback
Brock Purdy (Available in 71% of Leagues)
Brock Purdy has been highly consistent during his tenure as the primary QB for San Francisco. Purdy has produced between 14 and 17 fantasy points in three of his four full games as QB for the 49ers. He also has one game of 21 points. As mentioned last week, Purdy has partially been a product of his supporting cast. Christian McCaffrey, George Kittle, Brandon Aiyuk, and Deebo Samuel (when healthy), are four of the most dynamic players with the ball in their hands — just look at Kittle's four TDs in the last two games and see for yourself. 
How many @gkittle46 TDs today? ✌️

📺: #WASvsSF on CBS
📱: Stream on NFL+ https://t.co/pK8tdcJuBl pic.twitter.com/VesgOa7hBh

— NFL (@NFL) December 24, 2022
Purdy plays the Raiders in Week 17, a team that gives up the highest completion percentage to opposing QBs. Las Vegas also lost Chandler Jones in Week 16 for an extended period of time. Purdy is a solid high-floor, moderate-ceiling play in Week 17 and someone I am more than comfortable starting if needing a QB to stream. Purdy is a player who probably won't lose a manager the Week 17 matchup but is not someone that will win it either. This has some value, especially on teams that just want to secure points.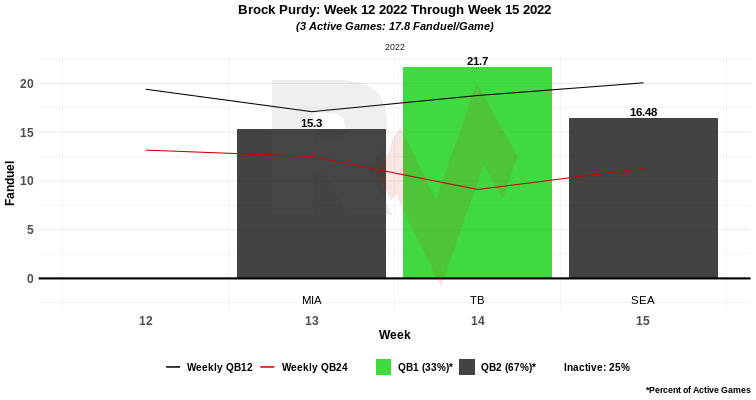 Gardner Minshew (Available in 73% of Leagues)
Similar to Brock Purdy, Gardner Minshew benefits from the plethora of talented players around him in the Philadelphia offense. Each of A.J. Brown, Devonta Smith, and Dallas Goedert make life much easier on a backup QB. In addition, Minshew also has a very strong offensive line which is a super underrated aspect of fantasy production. In Week 16, Minshew was great for fantasy football, passing for more than 300 yards and throwing two TDs. He also scored on a QB sneak. Positively (or negatively, depending on the perspective) Minshew left some "meat on the bone" as he threw two interceptions and fumbled on a sack, ending three of Philadelphia's 10 drives.
Minshew is not as good of a play as he was last week, because Dallas was able to push the Eagles to keep their foot on the gas the entire game. However, Minshew should still be heavily involved in the scoring on the way up against a New Orleans team that should be a much easier opponent.
Running Back
Tyler Allgeier (Available in 61% of Leagues)
Tyler Allgeier emerged from the Week 16 game as the clear top RB for the Falcons. Allgeier ended up playing 59% of the snaps and got 62% of the RB opportunities (18 rushes and 5 targets). In contrast, Cordarelle Patterson had a season-low 37% snap rate and only nine opportunities. I believe Atlanta wants to see what it has in its young players before heading into the 2023 draft with several top-value picks. 
Allgeier plays the Cardinals next, a team that is not expected to jump to a big and early lead on the Falcons. This should allow Atlanta to employ their preferred game plan of running the ball and completing easy passes. In addition, Arizona has given up several big games to RBs during the past few weeks, a boost for Allgeier. With a good matchup and volume that should remain intact, Allgeier is the top RB pickup for Week 17.