Welcome to the 50th installment of the The Wrong Read. Week 3 brings with it a number of running back injuries, which opens up opportunity for some backups to have large roles. Because of the timing of this news, DFS salaries have not yet caught up with the expanded roles, opening up "free squares" on DFS rosters. But do these so-called free squares tend to pay off?
There are — depending on who you ask — between one and three RBs on this week's slate who are projected to have roles much larger than what their salary would indicate.1 As such, they are also projected to be used on a much higher percentage of DFS rosters than one would normally expect. Fading chalk is sometimes a good strategy, but sometimes players are chalky for a reason. Is this sort of chalk worth playing, even considering the higher-than-normal ownership? And if you don't play one or more of these free squares, are your lineups in trouble?
How Often Do Free Squares Return Value?
Looking at every RB priced under $6,000 on DraftKings who's expected to be rostered on more than 12 percent of lineups since the start of 2016,2 we see that this group of RBs does tend to outperform, beating salary-implied point expectations about 71 percent of the time. That's a pretty good rate, and we can improve it by looking only at RBs playing at home — they beat salary-based expectations about 74 percent of the time. Interestingly, this group of RBs also outperforms expectations about 74 percent of the time when their team is the underdog.3
What Kind of RBs Make Good Free Squares?
So free squares probably are worth playing, right? Not so fast. It turns out not all free squares are created equal. If we require some statistical thresholds, things look a little different. Catching passes is one of the most important skills for a RB, and it's especially important on DraftKings, where each reception is worth a full fantasy point. If we look at RBs who have averaged at least two targets per game over the previous month's worth of games, the numbers hold — those RBs outperform about 73 percent of the time.
When we look at RBs who have seen fewer than two targets per game over the previous month, however, things look quite a bit different: RBs who do not get at least two targets per game before becoming a free square beat expectations only 58 percent of the time, and they outperform by an average of only 0.19 points. The most that a non-pass-catching free square RB has scored in the last two-plus seasons is 23.6 DK points — Jerick McKinnon did so last season. But he doesn't exactly count as a non-pass-catching RB, because although he averaged fewer than two targets per game in the preceding month, everyone knew he was capable of catching passes if given the opportunity.
The most that a true non-pass-catching RB has scored in this situation is the 18.7 DK points that Derrick Henry scored against Jacksonville last season. At only $5500, 18.7 points is more than 3x value, but remember, this is the most that a true non-pass-catching free square RB has scored since 2016. This is a solid score, but not nearly enough to take down a large-field GPP, or even to make up for underperforming players elsewhere on a cash lineup. And it's certainly not the type of score you can't get away with fading.
What Does This Mean for Week 3?
When we look at the three candidates for free-square status this week, Murray stands out as the clear non-pass-catcher. Even in what is likely the best RB matchup he will face this season, it is hard to feel confident that Murray will provide a big boost to our DFS lineups.
What about Clement and Bernard? We've already noted how Bernard is only $100 less than Hunt — his price might be too high to truly qualify for free-square status. Indeed, when we limit our search to players priced in the $5000s who are expected to be rostered in more than 12 percent of lineups, the rate at which these RBs beat expectations drops to 61 percent. Price makes a big difference here, in other words.4
That leaves Clement as the only viable free-square candidate. At $4300, his price makes it easy to fit in a lot of high-priced players elsewhere. Clement was targeted six times against Tampa Bay and also rushed six times for 30 yards, and this was a game in which Jay Ajayi played all but about one quarter. What we see in Clement's usage trends is also encouraging. He has a consistent utilization rate regardless of the number of snaps he plays:

In other words, we should expect his usage to increase proportionally with his snaps. With both Ajayi and Darren Sproles inactive, Clement may be in line for a large increase in snaps, and therefore a large increase in usage.
On the other hand, we've seen Philadelphia deploy their backs in unexpected ways. They recently activated Josh Adams from the practice squad, a surprisingly productive college RB who showed off excellent agility at his pro day. And Wendell Smallwood also saw a large increase in snaps last week:

He rushed seven times for 28 yards and added a target of his own. It's not a foregone conclusion, in other words, that Clement will see the bump in usage everyone is expecting. It's just as likely Philadelphia continues to use a three-back committee, even with Sproles and Ajayi out. Add to this fact that RBs in the situation that Murray, Bernard, and Clement find themselves in tend to average about 23 percent ownership, and fading them begins to look more attractive.
Where Should We Look Instead?
Various RotoViz apps offer guidance on RBs that can provide similar value and upside at greatly reduced ownership. Matt Breida is $5400, but according the Fantasy Streaming App, he has the best matchup of any RB this week: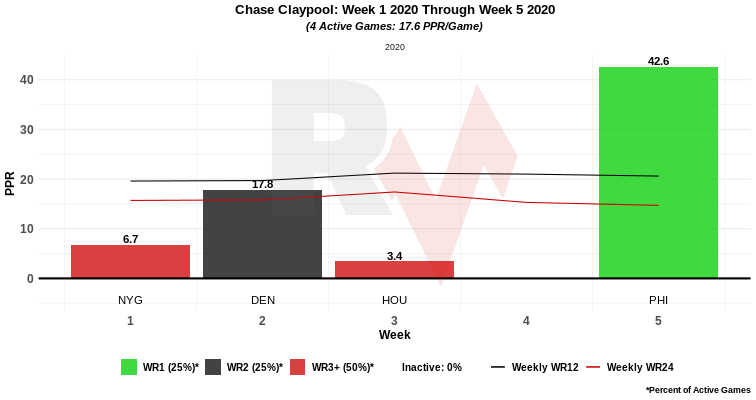 As the more likely pass-catcher in this backfield, and by far the more efficient rusher so far this season, Breida's upside in the game with the highest total of the week is immense. He offers not only reduced ownership, but also significant savings in salary compared to Murray or Bernard.
At the lower end, Phillip Lindsay is priced only $300 more than Clement. No RB has a higher floor, median, or ceiling projection according to the Weekly Stat Explorer's game-level similarity projections (GLSP):

The RotoViz GLSP app agrees with the upside case for Lindsay:

Breida is projected for 5-8 percent ownership, while Lindsay is projected to be rostered on less than one percent of Millionaire Maker lineups. At those ownership levels, and with the backs projected for high ownership all coming with significant risks, the best play might be to fade Week 3's free squares.
Corey Clement is the clear candidate at only $4300. Latavius Murray and Giovani Bernard are debatable at $5800 and $5900 respectively — the discount on Murray and Bernard is not as great considering you can pay just $200 more at the most and move up to Kareem Hunt. All three are projected for more than 12 percent ownership. (back)
using data from our friends at FantasyLabs (back)
Murray and Clement are both at home. Bernard's Bengals travel to Carolina, where they are 2.5-point dogs. Home dogs beat expectations 78 percent of the time, though the sample here is pretty small — 14 players since 2016. (back)
Of course Hunt himself is projected for nearly 20 percent ownership, so Bernard could make a good pivot for that reason alone. (back)