In The Blitz, RotoViz writers react to the latest news and help you place it within the context of our 2020 research and recommendations.
The breakout game finally happened. It may have taken until Week 6, but D'Andre Swift reminded fantasy owners why he was the trendy RB1 of the 2020 class for so long. Despite splitting touches with future Hall of Fame running back Adrian Peterson, Swift could be entering must-start territory every week if this past week is any indication of how the Detroit Lions plan on deploying their star rookie second-round pick.
Detroit Lions running back D'Andre Swift enjoyed his best game as a pro, carrying the ball 14 times for 116 yards and two touchdowns in the Lions 34-16 romp over the Jaguars in Week 6. This is the type of performance that had fantasy teams so excited about Swift heading into the season as the rookie gashed the Jaguars in the second half. Veteran running back Adrian Peterson also punched in a touchdown, but Swift even took over goal-line duties by the second half. This development is excellent news for Swift in fantasy moving forward and could mean fewer touches for Peterson heading into Week 7.
Dual-Threat Running Back
Swift had everything you could want when he came out of college. He rushed for over 2,800 yards and scored 20 touchdowns on the ground. Better yet, he was incredibly efficient to the tune of 6.5 yards per carry in his collegiate career. However, his coveted pass-catching abilities led many to view him as the RB1 of the 2020 class, even a full year out.


Seventy-three receptions. That's an incredible number for a college running back who also posted a strong career rushing line. He looked smooth running routes and catching the ball away from his body. His vision and ability to make defenders miss in open space was long raved about on film. His draft capital and landing spot afforded him enough optimism that he was a consensus first-round pick in every rookie draft, even in Superflex.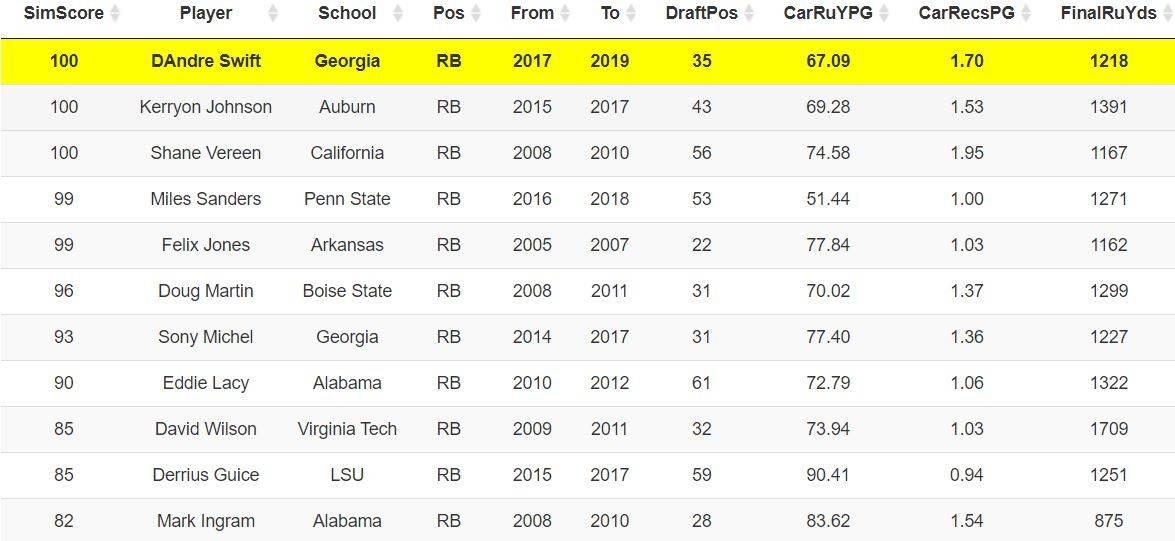 A Potential Dynasty Buy
Fantasy owners will need to act fast if they wish to secure Swift's services for the future of their dynasty squads. High draft capital (in both real and fantasy football) has led many to become frustrated by Swift's lack of usage in Detroit. Losing some work to Kerryon Johnson would have been understandable as the former second-round pick has flashed success in the past.
But to lose out on the majority of touches to a 35-year-old running back? That certainly caused some frustration and disconnect.
Swift has already vaulted Johnson on the depth chart and appears poised to do the same to Peterson. While the game script and a favorable matchup against the Jaguars in Week 6 had much to do with Swift's performance, Peterson still out-rushed Swift 15-14. Peterson will likely not disappear entirely. If Swift continues to cede touches to Peterson, he could be worth targeting in trades over the next few weeks of the season.