In The Blitz, RotoViz writers react to the latest news and help you place it within the context of our 2020 research and recommendations.
The first wide receiver selected in the 2020 NFL Draft, Henry Ruggs, scored his first professional touchdown in Week 5 and flashed big-play ability along the way. After missing the last two games, it was nice to see him healthy and active.
Las Vegas Raiders wide receiver Henry Ruggs III had a breakout performance, catching two passes for 118 yards and a touchdown on three targets. Most of Ruggs' yards came via a 72-yard touchdown pass. Ruggs showed why the Raiders drafted him with their first pick of the draft. He has blazing speed and big-play potential. This style of play will make him a volatile fantasy option going forward. He can have games like this where he gets loose in the secondary and catches a long touchdown pass. He can also have games like he had earlier in the season where he catches just one pass on a couple targets. He will be a risky fantasy option in most weeks but is certainly worth considering as a starting option. He returns to the field in Week 7 against the Buccaneers.
The League Of Speed
Hailing from what is quickly becoming Wide Receiver University, Ruggs joins a growing list of talented wideouts from the University of Alabama to leap to the NFL. Ruggs follows Julio Jones, Amari Cooper, Calvin Ridley, and now Jerry Jeudy as highly coveted collegiate prospects.

Boasting elite speed and explosiveness, Ruggs torched the combine and still left fantasy owners wanting more. That should tell you something about what the community thought of Ruggs.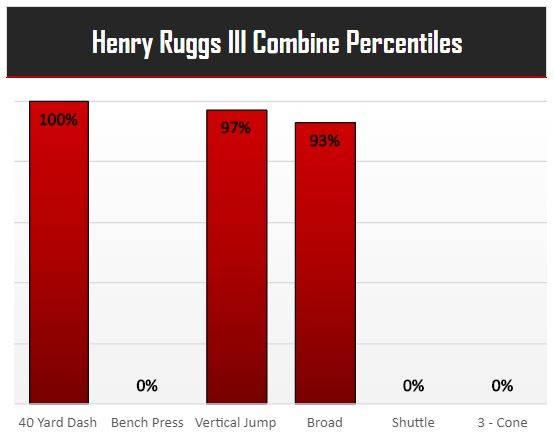 The NFL values raw speed and athleticism, as shown by Ruggs' draft selection. From a fantasy perspective, few had Ruggs inside their top group of wide receivers. However, his combine performance and subsequent draft capital changed more than a few minds, and the potentially most intriguing part of his profile even went overlooked by many draftniks and fantasy managers. So far this season, we've seen what Ruggs can do. Now, fantasy owners are eager to see if this trend continues.
Looking Ahead
There's more than enough reason to be optimistic about Ruggs going forward. His elite speed and athleticism, coupled with his high draft capital, all point toward him having a successful career in the NFL. Many have pointed to his lack of college dominance as an indicator that he's more of a deep threat, field-stretching option, but Travis May highlights why this isn't the case. In his draft profile piece on Ruggs, he says the following:
But really, the key to understanding Ruggs is context. Ruggs nearly fit into the segment of the receiving production regression tree better known as the "field stretchers" of college football (but just missed minimum final season yardage). Essentially he's a player that only requires a few plays to absolutely dominate the stat sheet for you. And at Alabama, Ruggs just simply didn't need to be a high volume market share guy thanks to their bevy of five-star receiver talent. That may seem like a cop-out, but in this case, it truly isn't. There's still plenty to "wait and see" on, but if draft capital, adequate production, and elite athleticism mix together just right we could be looking at a mix between Marquise Brown and Tyreek Hill for years to come.
I appreciated his immediate use of the word "context." Any stats person will tell you that individual stats can be exceptionally deceiving, taken out of context. Those who scour box scores miss out on many vital details. Ruggs may not dominate the target share that other elite wideouts do, but he doesn't have to. If the Raiders use him appropriately and scheme to his strengths, we might see that Brown and Hill mix.