Shawn Siegele looks at the key wide receivers to buy and sell at the 2020 dynasty trade deadline and provides trade recommendations for the top-50 WRs.
Each week in this space, I like to look at new developments through the lens of rankings or trades. In the last month alone, we've seen big returns on our trades, set ourselves up to win 2020 redraft titles, and taken a full year off of our dynasty rebuilds.
Last week we ranked the running backs for the fantasy playoffs, and today we're going to do something similar . . . with a twist. Many dynasty leagues have their trade deadline this week. This edition of the Dynasty Workshop will focus on the tactics necessary to win now while opening your championship window even wider. We'll use the SOS Streaming App, our strength of schedule tool with advanced schedule metrics, to find the best buy and sell moves at WR. Finally, I'll give buy, sell, hold recommendations for each of the 50 highest-scoring WRs.
* Sam Wallace has covered the best exploitable opportunities throughout the season, and I love to use his Buy Low Report for my own in-season trades. 
Star WRs to Sell
It's always helpful to look ahead for the best playoff schedules, but sometimes looking back can be equally profitable. Who's benefitted from an easy schedule to this point, and might we be overly enthusiastic about what they've accomplished so far?
WR Strength of Schedule – Week 1 to Week 11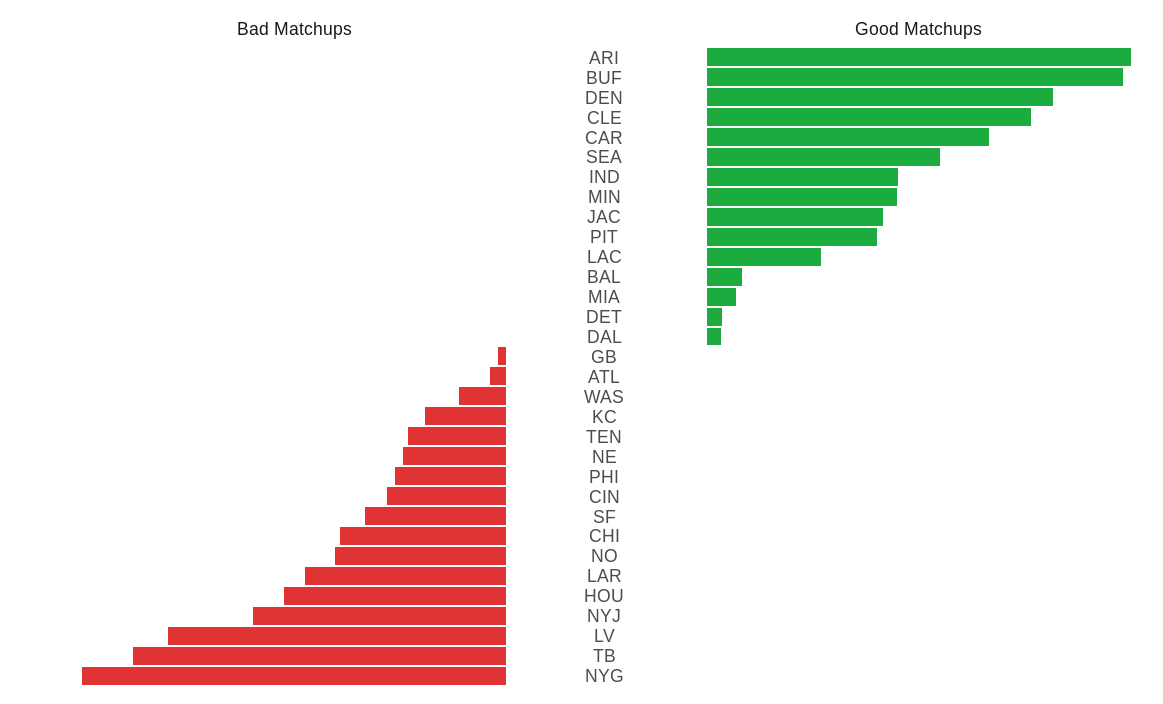 Without even knowing the future schedule, we might have some ideas about receivers to buy and sell.
Deandre Hopkins
This may seem like an odd choice. It's also one I'm not too happy about given that Hopkins is the WR1 on all three of my playoff FFPC Main Event teams.
The Cardinals' new alpha WR blew the doors off out of the gates. He averaged over 24 PPG during the first three weeks, and it looked like an overall WR1 season was in the cards. Hopkins is no stranger to that title, having won it in 2017 and 2018. Unfortunately, a nagging ankle injury and less target attention from Kyler Murray has clouded his outlook.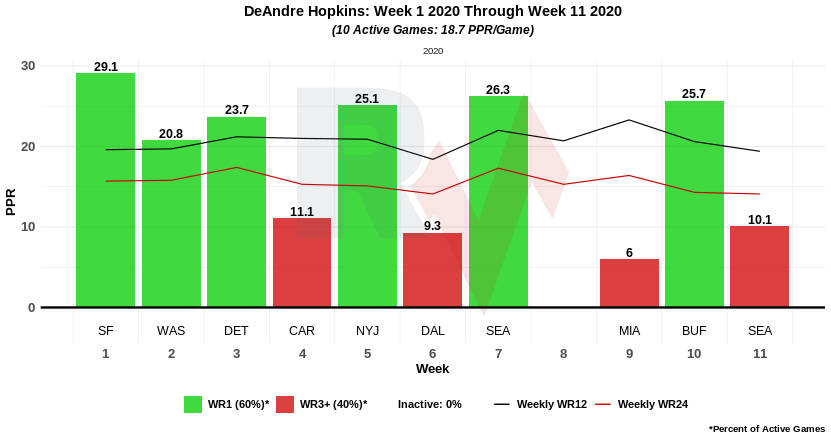 The big games have continued to propel fantasy owners in specific weeks, but Hopkins has also turned in four finishes of WR3 or worse. To put that in perspective, Hopkins only posted 10 such performances in 46 contests from 2017 to 2019. Five of those came in 2019, which explains a little bit of the ADP skepticism entering 2020.
Fantasy owners who were worried about Hopkins move from Houston to Arizona are being slowly proven . . . at least not wrong. Even though the Cardinals rank No. 1 in seconds to snap and no-huddle percentage in neutral scoring environments, their system hasn't been quite the boon to receivers that owners had hoped for. The passing profile for Deshaun Watson from 2017 to 2019 is almost identical to the passing profile for Kyler Murray in 2020.[1]Watson averaged 15.8 paEP per game with 3.5 points above expectation. Murray is averaging 16.3 with 3.0 paFPOE. Hopkins earned 33% of the targets during that window in Houston. He's down to 29% in Arizona and has been at only 26% since the beginning of Week 4. Over the last three weeks, he's barely ahead of Christian Kirk and a decrepit Larry Fitzgerald (24-21-21).
Hopkins goes from the best schedule over the first 11 weeks to the seventh-worst schedule during the fantasy playoffs. I doubt the Cardinals will sit back and let defenses take their star away during this critical stretch, but they'll need to make some adjustments in a hurry. Otherwise, Hopkins will enter his age-29 offseason on a down note.
Not every WR in this range collapses by any stretch – just look at the highlight plays Adam Thielen turned in on Sunday – but this could be your last chance to sell at peak value. Julio Jones doesn't command anything close to what he did just a couple of years ago, while T.Y. Hilton and A.J. Green are burning owners who held on. Getting older is a major risk factor in WR bust seasons, a double dagger which hurts you in the box score and the trade department.
If you are out of the playoff hunt, I'd be looking to flip Hopkins for a first- or second-year WR. Even competing owners might be tempted to consider a similar trade, and we'll get to some options in the Buy segment.
Tyler Lockett
Lockett's owners have been on an even bigger roller coaster in 2020. From Week 4 to Week 10, Lockett posted five WR3 or worse finishes and sandwiched in a 53-point game. Averaging 19 PPG and sitting at WR7, you can't complain about his scoring, but you can be a little bit concerned about the future.
Arguably the biggest storyline in 2020 has been Seattle's decision to let Russell Wilson be a star. Jack Miller has covered this superbly in Strength in Numbers, his must-read weekly column.
For that reason, Week 11 instills fear and dread.
The NFL Pace tool is pretty extraordinary in terms of how it lets us break down the Seattle offense. Even during the blitzkrieg attack through the first 10 weeks, the Seahawks weren't able to run as many passing plays as their 63-37 pass/run split might suggest. Part of this is due to leading the league in total plays against. Just through the air, their lousy pass defense has faced an average of 44 pass plays per 60 minutes. That's four more than the next highest team.
For their part, the Seahawks were averaging 38 pass plays per 60, a meaningful improvement on last year's 34. Unfortunately, they responded to losses in Weeks 9 and 10 – and perhaps remembering their come-from-ahead overtime loss to the Cardinals in Week 7 – by morphing back into the Seattle of old. They called a 50-50 pass/run split against Arizona in a game that was competitive throughout, and they ranked last in seconds-to-snap. In fact, they were bleeding the clock so profusely that numerous delay of game penalties were either ignored by the officials or avoided by a millisecond.
I don't expect the Seahawks to devolve back into the 2018 version that led the league in rush percentage, but it's worth remembering that the structure of NFL games tends to have a balancing effect. The extreme efficiency from Wilson means that the Seahawks only need to throw at a high rate when their defense is also poor.[2]Poor defense can make it harder to control the ball and generate high passing attempt numbers, something we're seeing this season.
You still want to own as much Seattle as possible, and this might even be a good week to buy D.K. Metcalf and Wilson. But taking precautions isn't out of the question.
To balance the risk, Lockett is a good sell. He'll turn 29 toward the beginning of next season and run the risk of falling further behind as the No. 2 in the offense. That's the big picture. More immediately, he might be a disappointing playoff weapon. After enjoying the No. 6 schedule through 11 weeks, things take a turn for the worse in Week 15. Seattle has the worst WR schedule during the semis and finals, including a brutal matchup with the Rams in the championship game.

As is the case with Hopkins, holding Lockett runs the risk of tanking your playoff hopes and increases your chances of entering the 2021 offseason with a diminished trade asset.
Star WRs to Buy
Before we get to the top 50 trade recommendations, let's look at a couple of specific buy targets. We'll start by checking out WR schedule strength during the fantasy playoffs.