As we enter the fantasy playoffs in many formats, Shawn Siegele discusses the positions that put up big points at the most crucial times and investigates whether Zero RB provides enough upside to win your fantasy title.
Since Zero RB is such a core element of our philosophy at RotoViz, it's incumbent upon us to show that it works. I like to mix hard evidence with personal anecdotes to back up our claims. After all, you want to see us playing these teams if you're going to take the plunge yourself.
Several weeks ago, I broke down the underperformance of RBs in the Dead Zone and the success of WR-WR starts from poor draft slots. Last week, Blair and I each detailed our playoff-bound journeys when drafting Zero RB out of the No. 12 slot. We'll get to their semifinal results in a moment.
The central element of Zero RB – and its offshoot, Single Elite RB – is to load up with wide receivers during the high-leverage portion of your draft. The evidence in favor of this approach is incontrovertible and overwhelming, and yet many fantasy owners still see Zero RB as a high-risk, low-upside strategy. We know the overall approach gives you a very high floor. But what about the ceiling?
Tyreek Hill and the Zero RB Explosion
Week 12 begins the fantasy playoffs in the FFPC. It's also the start of the playoffs in many leagues that have some element of a multi-week playoff or multi-division championship. If your playoffs don't begin for another week or two, you still find yourself in the final push for a playoff spot and first-round bye.
Week 12 is one of the most important weeks in fantasy, and Tyreek Hill came to play. Monty Phan covers a variety of crazy Hill stats in High Staked. The Chiefs star posted over 200 yards in the first quarter.
Since the year 2000, Hill's performance is the highest score in Week 12, nipping the 55.7 points scored by Priest Holmes in 2002. During the playoff window from Week 12 to Week 16, he's bested only by Jamaal Charles' 59-point performance in Week 15 of 2013.
How many points can you score with Hill in your lineup? The team I drafted with Peter Overzet, Patrick Kerrane, and Ben Gretch was lucky enough to find out.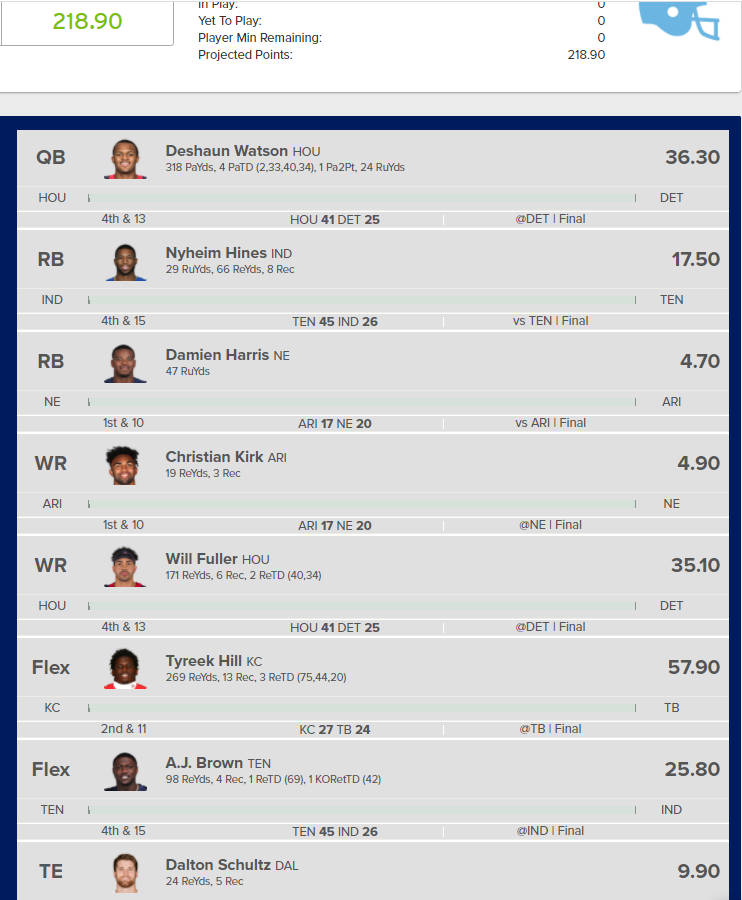 One of the nice things about constructing your team as a Zero RB juggernaut is that you're not reliant on that single player to carry you to victory. Blair mentioned last week that our Main Event team rostered six top-20 WRs, and we were able to advance with a 168-point game that left A.J. Brown on the bench.
In the FPC matchup shown above, the lineup scored 161 points before you added Hill's 58-point game. Loading up on the highest-scoring players during the highest-leverage rounds also builds in a margin for error. This team lost its first-round pick, George Kittle, and our decision to play Christian Kirk, avoiding the Tuesday game with JuJu Smith-Schuster, backfired.[1]We did get fortunate in our K/DEF calls, as Tyler Bass and the Saints added another 26 points. In scoring 219 points, three of our first five picks were not in the lineup.
This isn't a bad time to remind readers why it's absolutely crucial to start four WRs every week and just how big the scoring gap really is.
RB and WR Scoring Relative to ADP 2017-2019
But this is Hill's week. He overshadowed a 38-point game from Derrick Henry and the 71 points available from a Deshaun Watson/Will Fuller stack. How crazy is Hill's performance and does it fit with what has transpired over the last decade? Is it reasonable for fantasy owners to believe their star WRs can match elite RBs during the most important weeks?
Positional Upside in the Fantasy Playoffs
The RotoViz Screener allows us to grab the individual finishes from given weeks and compare the results by position. When you consider all of the monster performances from RBs, the overall results are surprising.
Footnotes

↑

1
We did get fortunate in our K/DEF calls, as Tyler Bass and the Saints added another 26 points.