Before the 2020 NFL Draft, many NFL analysts, pundits, and prognosticators believed the Philadelphia Eagles would spend their first-round pick on a wide receiver. A large chunk of this group also believed that the player they would choose would be LSU WR Justin Jefferson. The Minnesota Vikings were also sure of this, as evidenced by their joy when the Eagles instead selected TCU speedster, Jalen Reagor. The Vikings snapped up Jefferson with the very next pick, and the rest, as they say, is history. Jefferson is the latest subject of our rookie review series.
By the Numbers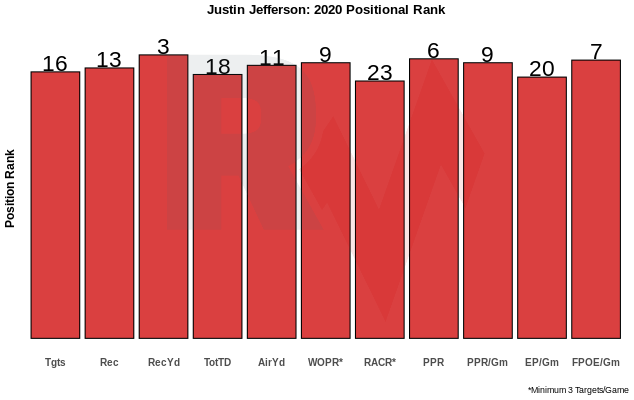 Some people were quick to label Jefferson as a slot specialist coming into the NFL. Things got off to a slow start for Jefferson, as he spent his first two games stuck behind not only Adam Thielen but also Olabisi Johnson. Jefferson commanded just six targets in his opening pair of games, catching five of them for 70 yards. But in Week 3, Jefferson converted nine targets into seven grabs for 175 yards and his first NFL touchdown. He didn't see less than five targets in a game again for the rest of the season.
Jefferson finished his rookie season with 88 receptions for 1,400 yards, scoring seven touchdowns. Only five players in NFL history have had more receptions in their first season than Jefferson. No rookie has ever had more receiving yards. Both his yardage and efficiency were there for all to see, as despite seeing the 16th most targets at the WR spot he finished with the third-most yards, not to mention the seventh-highest FPOE/Gm mark.
After his Week 3 breakout, Jefferson had seven games in which he saw double-digit targets. He had three games in which he caught nine passes, while he topped the century mark in yards a total of seven times. Jefferson's production carried over into the fantasy realm, in which he had several highly productive weeks for his fantasy managers.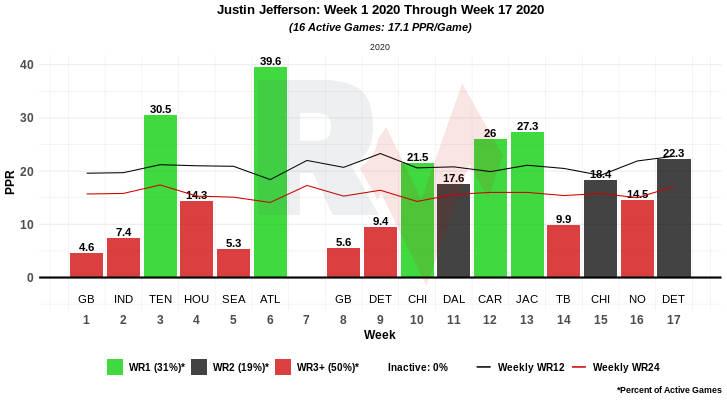 Jefferson's five WR1 weeks saw him finish as the overall WR3, WR1, WR11, WR6, and WR4. Accompanying these highs though, there were a few staggering lows. Notably between Weeks 5 and 9. Yes, there was his Week 6 showing where he led all WRs in PPR points. But in Weel 5 he finished as the WR67, while his next two outings saw him post weekly finishes of WR64 and 54.
Still, considering he was taken on average as the WR59 in Fanball best ball leagues, I don't think his fantasy managers can be too upset with what they got from Jefferson in 2020.
HISTORICAL COMPS