Wide receiver is a position that the Philadelphia Eagles have struggled to get production from in recent years. You have to go back to 2014 for the last time an Eagles wideout — Jeremy Maclin — crested 1,000 receiving yards. But they have certainly tried to find playmakers at the WR spot over the years. A year after re-acquiring DeSean Jackson and drafting J.J. Arcega-Whiteside, neither of whom produced much in 2019, the Eagles were widely anticipated to take a WR in the first round of the 2020 NFL Draft.
Most mock drafters and analysts believed they would select Justin Jefferson out of LSU. While he went on to have a rookie season for the ages, it was not in Eagles green. They instead took Jalen Reagor, a speedster from TCU. We know how Jefferson fared in his first season, but what adventures lay in store for Reagor in his first crack at the NFL? He's the latest player in the spotlight in our rookie review series.
By the Numbers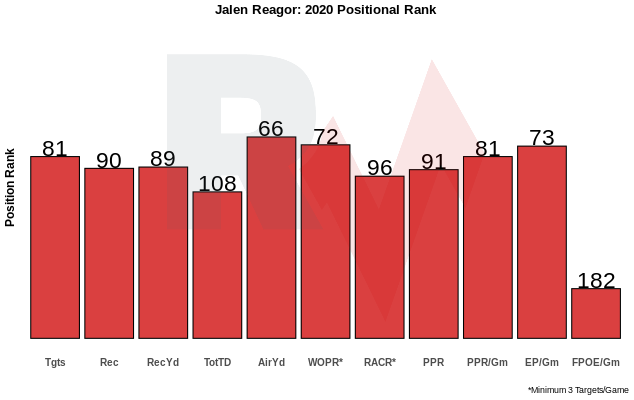 Putting it mildly, Reagor's rookie production was extremely disappointing. He seemed to get off to an almost perfect start, with a 55-yard reception on a pass from Carson Wentz in his Week 1 debut. But that would turn out to be one of only four receptions of more than 20 yards for Reagor across the whole campaign. Those 55 yards were all he managed in that entire game, and he would not exceed that total in any contest all year. Reagor finished the year with 31 receptions for 396 yards and a single touchdown. He commanded just 14% of the Eagles targets when on the field, the same percentage as Greg Ward.
Reagor commanded five or more targets in five games, with three of those games in succession between Weeks 8 and 11 (the Eagles were on a bye in Week 9). Week 8 also saw him score his first, and to date only, NFL receiving touchdown. He would have five receptions in a game just once, however. These came in the loss to the Browns and brought him 52 yards. Reagor did manage four in three outings, and another two games with three grabs. Annoyingly, given his reputation and the hopes that he would emerge as a deep threat for the Eagles, he commanded 100 or more air yards in just two games. After 136 in Week 1, including his 55-yard grab, he had to wait until Week 15 when he posted 104 against the Cardinals.
Given this disappointing output, you would be naive to think Reagor made much noise from a fantasy point of view. He certainly did not.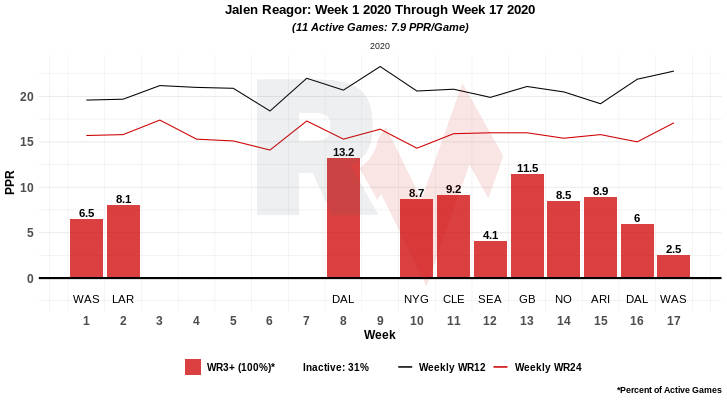 Reagor's best weekly finish as a rookie was the WR33. He managed this thanks to his 13.2 PPR points in Week 8. Other than that, he finished outside of the top 50 in weekly scoring seven times.
HISTORICAL COMPS