The Chicago Bears have signed D'Onta Foreman to a one-year, $3 million contract. He'll be paired with 2022 breakout Khalil Herbert to form a cheap and explosive backfield.
Fresh off of their fleecing of the Carolina Panthers in the trade market, the Bears may have gotten the better of them at RB as well. While Miles Sanders and Chuba Hubbard should form a good lighting-and-lightning combo in Carolina, the Panthers might have been better served to simply retain their big back at a fraction of the cost.
According to Next Gen Stats, the Bears now have 2022's No. 1 and No. 6 backs in rushing yards over expectation per attempt. Our charting results from Sports Info Solutions agree with this conclusion.
While Foreman and Herbert aren't the highest-profile combo in the NFL, they may be one of the best. Beyond their impressive 2022 campaigns, each player brings elite physical attributes. Foreman came into the league as a 21-year-old fresh off of a 2,000-yard season. He ran a 4.4 forty at 233 pounds. (Our most recent Texas star just ran a 4.46 at 215.)
Herbert took a more circuitous path to the NFL, but his sub-4.5 forty and sub-7.0-second three-cone provided Ray Rice as an athletic comp. Both players have backed up their traits with impressive recent production, and they should remain efficient weapons in an offense driven by an elite rushing QB.
Over the last two seasons, Foreman has demonstrated the ability to post RB1 and RB2 weekly finishes when thrust into duty.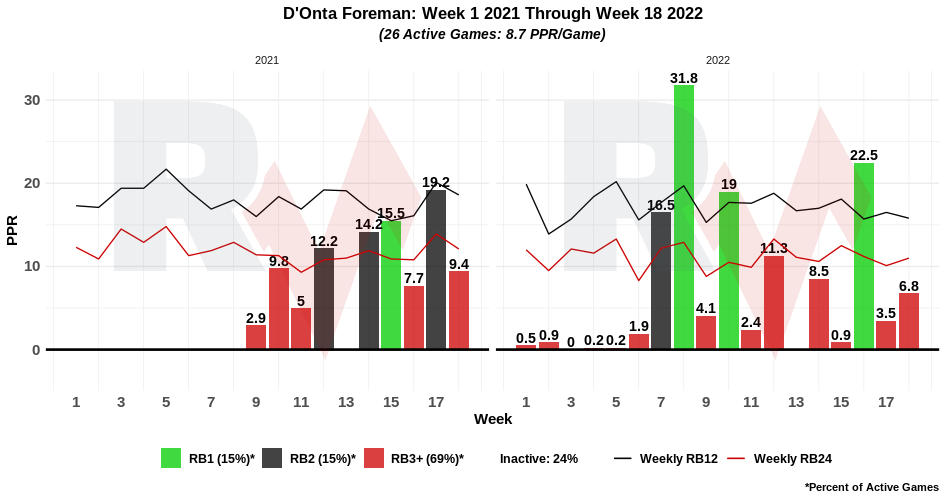 Can we expect more of that in 2023? In this piece we'll use the Advanced Stats Explorer, Advanced Team Stats, RotoViz Screener, Stealing Signals, NFL Stat Explorer, and more to break down the outlook in Chicago.
Serious Upside and Significant Risk for Bears RBs in Fantasy Drafts