The Rams drafted running back Cam Akers in the second round of the 2020 NFL Draft in hopes of replacing former stud Todd Gurley. Often viewed as a solid athlete whose production was capped by a poor supporting cast at Florida State, Akers entered his rookie season with a ceiling some thought was yet to be realized. A strong finish to the season that resulted in two playoff games in which he totaled 273 yards from scrimmage, two touchdowns, and 44.2 PPR has put Akers squarely on the radar of fantasy managers in 2021.
As we continue our Rookie Review Series, let's take a look at some historical rookie year comps, and how we should approach Akers this upcoming season.
Combine and Comps
Looking at the RotoViz Combine Explorer, we see that Akers tested well in the majority of the combine drills. His 4.47 40-yard dash and explosiveness in the vertical and broad jumps resulted in strong speed and explosion scores.
When we go into the RotoViz Box Score Scout and adjust for non-power five conference players, we see a list of highly touted rookie prospects. Of this group, we see five players who were taken in the first two rounds of the NFL Draft, and all but two who were taken in the top-100. If we plug these names into the RotoViz Screener, we can see how each of these players produced over their first three seasons.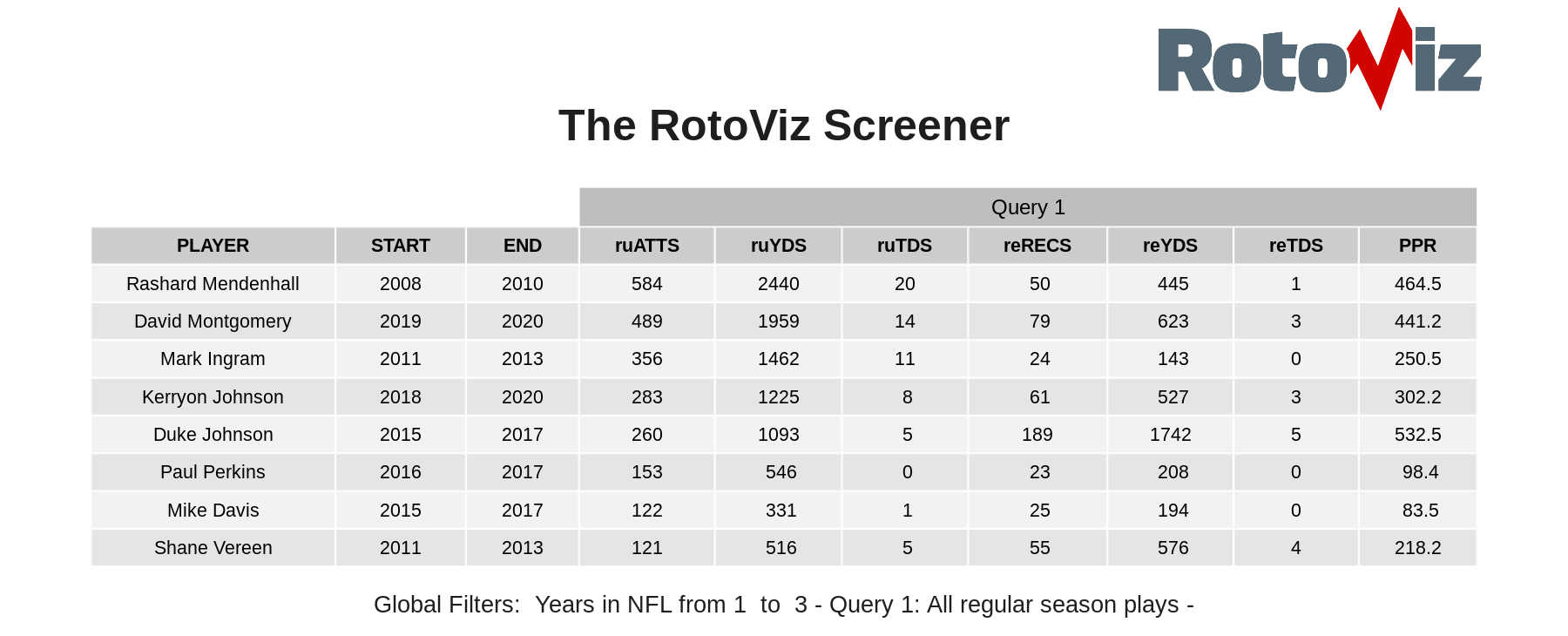 Removing 2020 rookies Zack Moss and Ke'Shawn Vaughn, we are left with a nice mixture of players. While some flamed out due to poor performance (Paul Perkins) or injury (Kerryon Johnson), others enjoyed early career production, or hit outside of the three-year window.
Often viewed as an under-appreciated asset, Duke Johnson enjoyed the most production early in his career. Johnson averaged 177.5 PPR during his first three seasons and finished as the RB23, RB31 and RB11 over that span. Mark Ingram on the other hand failed to crack the top-40 in PPR production during his first three seasons, only to finish as a top-15 PPR back in five of his six seasons from 2014 to 2019. And if you were fortunate enough to hitch your wagon to Mike Davis in 2020, you enjoyed his 208.5 PPR (RB12) season after the Panthers lost Christian McCaffrey.
We've established that Akers has a shot at this pro football thing based on his pre-combine comps, but let's take a look at how he compared to other rookies during their first year in the league.