Want your best ball teams to start with baked-in win rates equivalent to owning Derrick Henry in a record-setting season? Shawn Siegele uses the FFPC Roster Construction Explorer to show you how.
Last year Henry rushed 378 times and averaged a career high 5.4 yards per carry. His elite combination of rushing volume and explosiveness produced the NFL's fourth 2,000-yard rushing season of the last 20 years. For good measure, he punched in 17 rushing TDs.
Even without a receiving component, Henry's owners profited in best ball.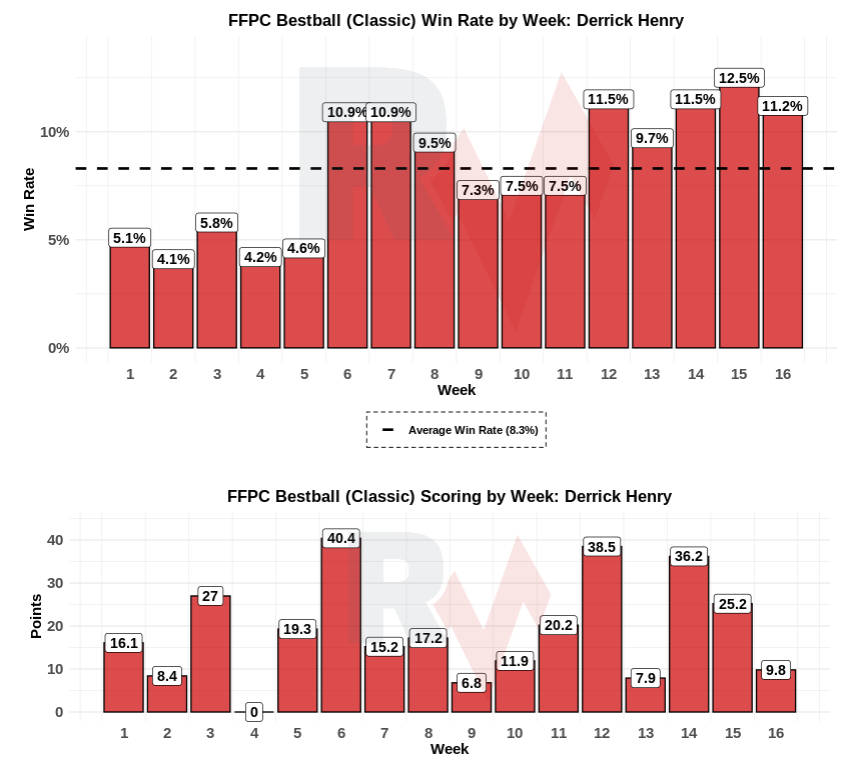 Hitting on a first-round RB is hard. Over the four years of the FFPC contest, only 10 first-round backs have posted a win rate above 10%. By contrast, 14 first-rounders have finished below 6%. As a result, even the mega-seasons by backs like Christian McCaffrey in 2019 and Alvin Kamara in 2020 don't move the averages as much as you might expect. Selecting an RB in Round 1 has historically resulted in only an 8.6% win rate. We don't know the current season's star ahead of time.
On the other hand, there's something you can do in every league that requires no clairvoyance, only the knowledge necessary to make a few simple tactical moves.
In the Best Ball Workshop, we've already demonstrated how a simple early-round Superflex strategy generates crazy win rates. In today's edition, I'll show you how to boost your Classic win rate above 11% with a trick that anyone can perform.
It's Not Boring When the Money's Flowing In