Dave Caban considers 2021 quarterback projections built by the RotoViz Range of Outcomes app.
The Range of Outcomes app (ROO) is one of my favorite tools we have at RotoViz. No joke, I actually get butterflies in my stomach when I roll it forward each year and get a first glimpse of the results. Last year, I wrote an in-depth article that details what the app is all about, how it's built, and the usefulness of its results. In a nutshell, the app uses historical data to build a realistic expectation of what a player could achieve in the coming season. These expectations are charted in a distribution that helps users to better understand a player's range of outcomes. If a regular offseason in Tampa Bay makes Tom Brady fire on all cylinders in 2021, what might that look like? If he falls off, how bad could it be? The ROO paints an optimistic picture. In general, players that produced stat lines similar to the one created by Brady in 2019 and 2020, tend to score more than 20 points per game (PPG) the following season. In fact, 66% of his comps did so.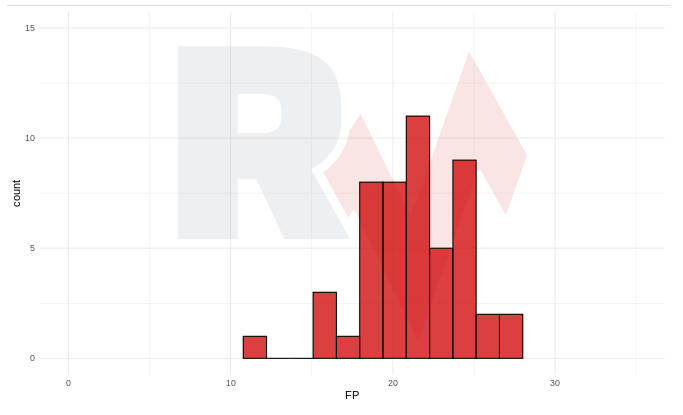 The ROO doesn't consider changes in a player's situation. For example, it's unaware that Matthew Stafford, Jared Goff, and Carson Wentz will be in new uniforms when the season kicks off in September. Tampa Bay might not bring back Chris Godwin. This could significantly impact Brady but the ROO will not account for this change.[1]Except insofar as similar historical players may have also lost important receivers.
Reaction
Dak Prescott owns the most favorable overall projection, which is unsurprising given his monstrous opening to the 2020 season.

Prescott averaged 32 points in these five games — the highest average ever produced by a quarterback — despite playing the third most difficult QB schedule in that time frame.
This pace figures to be unsustainable, but this regression is accounted for in the Year N+1 output of his comps.

Aaron Rodgers, like Brady, is expected to put together another year of solid production.

It's worth noting that there is some level of bias built into the ranges of outcomes of players with an abundance of experience.

They tend to be matched with more experienced players, and these players have to be strong producers to sustain such long careers.
This could lead to a more favorable set of comps than otherwise would be the case.

Justin Herbert's rookie campaign was strong enough to solidify his place among the QB position's elite.

Herbert comps with a number of perennial superstars like Rodgers, Deshaun Watson, Patrick Mahomes, Russell Wilson, and Andrew Luck.
Currently, he and Watson are being drafted approximately 20 picks behind Josh Allen and other sought-after passers.