Shawn Siegele locates the five best values in early best ball drafts, including always overlooked star Tyler Boyd.
In the Best Ball Workshop I've been showing you how to beat your FFPC Classic and Slim drafts in a wide variety of ways. The initial Superflex lesson provides a quick QB hack to boost your win rate above 10%. The PK lesson demonstrates how a couple of simple tactical decisions are equivalent to owning Derrick Henry. The DEF lesson breaks down the key choices that will provide win rates similar to owning Calvin Ridley.
If you're more interested in values at the player level, we showed you how to use the Best Ball Command Center to consistently select players way below their market prices. In our real life example, we grabbed 10 players at big discounts in the first 17 rounds of an FFPC draft. Today, we take that a step further and locate five players who are ridiculous values at ADP.
5 Fantastic Values in Early Best Ball Drafts
Beating the market can be tricky. Most players who generate an outsized win rate in one year will rise in price the next. When they don't the market is usually telling us that something particularly fluky happened or that the circumstances surrounding the player have changed substantially enough to warrant caution when betting on them again.
But every year a handful of values do present themselves. A few unfashionable players will come off of a string of dominant seasons and find their prices have mysteriously fallen. The Best Ball Win Rate Explorer helps us track the win rates for these players, and it also gives us a window into understanding how many points a player would need to score to be a value at his ADP.
The Wildly Undervalued Star
Tyler Boyd – 87 (ADP), WR33
Boyd has returned impressive win rates in each of the last three years, but his ADP never catches up to his value.

You might be surprised that a player who scored only 191 points last year with an ADP of 83 would record a 10% win rate. That's probably a function of Joe Burrow's injury, a factor that emphasizes the upside for Boyd in 2021. Through Burrow's injury in Week 11, Boyd's win rate was above 14%.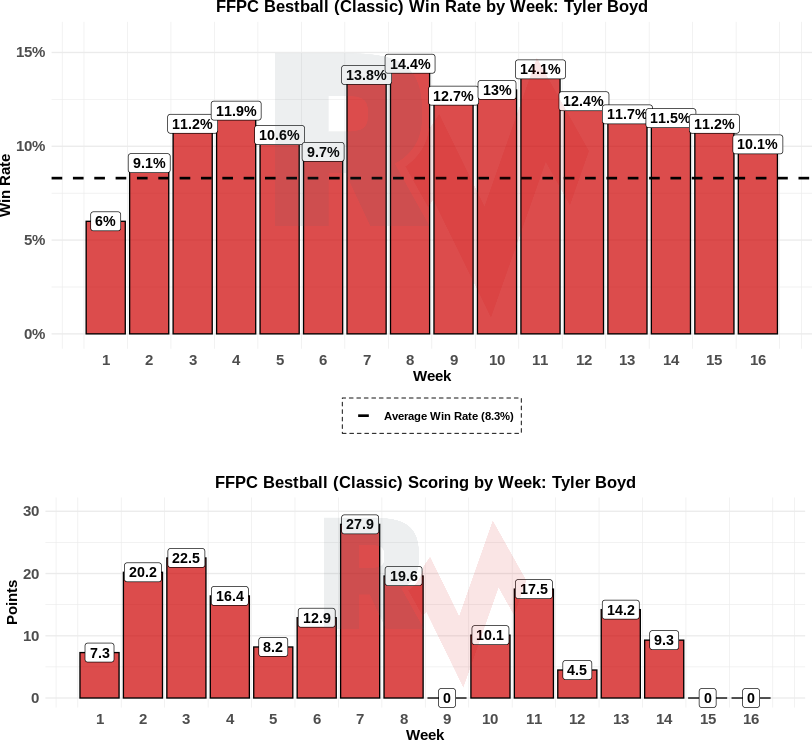 You'll remember from Michael Dubner's research on Functional Fantasy Points that volatile players with more individual weeks above replacement will post a better win rate than their more consistent brethren. Of course, knowing that might not be particularly helpful, since consistency is unpredictable despite the existence of possession and vertical profiles. But Michael's research also includes a key nugget for beating your draft: receivers with perceived volatility are overdrafted in best ball.
This brings us back to Cincinnati's slot star, a player who is consistently underdrafted despite high level production. Boyd finished as the WR17 in both 2018 and 2019, and then scored 16-plus points in six of 10 starts with Burrow last season. His valuation at WR32 represents a significant discount on his overall resume.
The Cheap Speedster with a Long Track Record