Last week I took a look at FFPC best ball ADP, covering risers and fallers and the quarterback and running back position after a wild free agency period. This week, we'll take a look at risers and fallers at wide receiver and tight end.
Pre-free agency, we saw a handful of talented players go undervalued in drafts. Now, after joining new teams, drafters have re-awakened their interest in these players and it's time to take notice and pinpoint some potential values.
If you didn't get a chance to read Part 1 of this series, be sure to check it out in the above link.
Wide Receiver Riser
T.Y. Hilton, IND – (161.2 ADP, WR51)
The lack of movement amongst the 2021 free-agent wide receiver class made for somewhat of a disappointing narrative. Chris Godwin was franchise tagged by the Buccaneers, and JuJu Smith-Schuster re-signed with the Steelers, sending two big-name free agents back to their original teams. Arguably the biggest wide receiver move was by Kenny Golladay, who signed with the Giants, but his ADP has remained relatively stagnant in the late fifth round.
One receiver who has seen a marginal jump is T.Y. Hilton, who returned to the Colts on a one-year deal.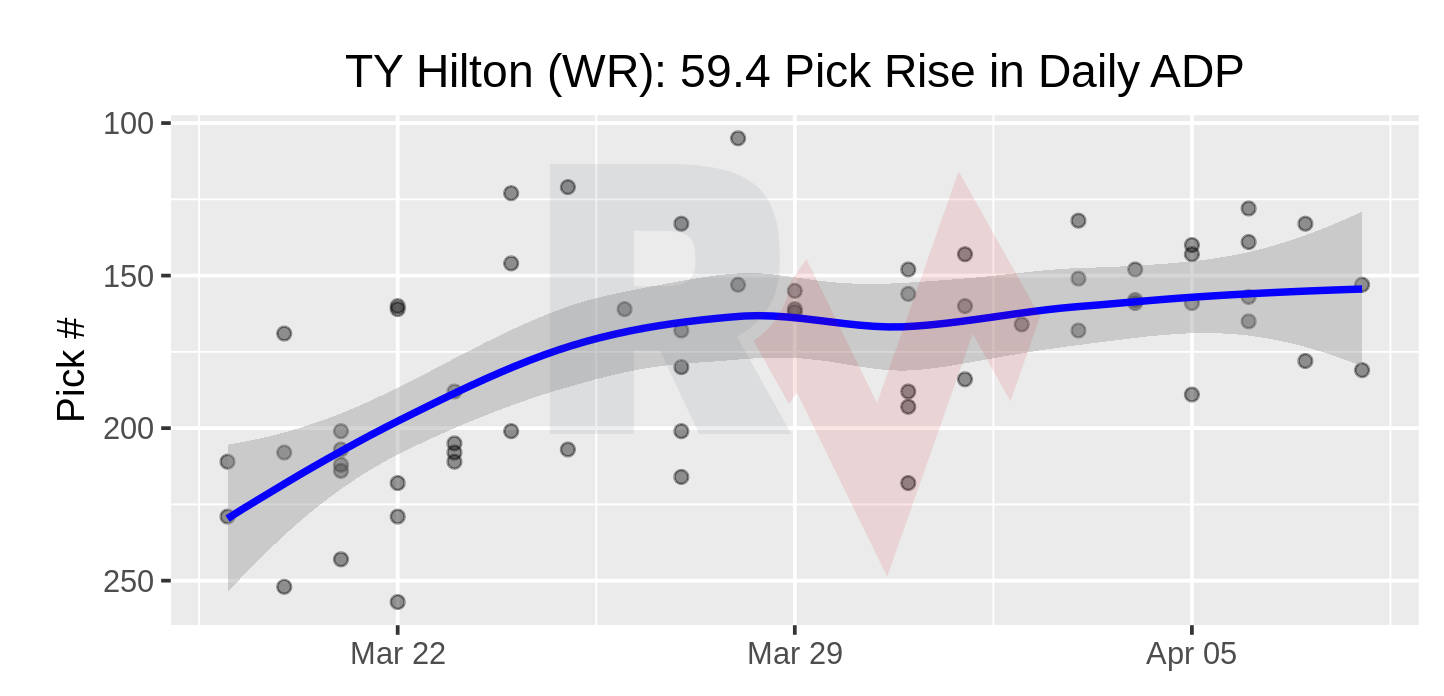 Over the last two weeks, Hilton has seen his ADP jump by nearly three rounds. While he may not be the no. 1 receiver for the Colts in 2021, drafters are slowly gaining confidence in him and his pairing with newly acquired quarterback Carson Wentz.
Entering his Age-32 season next season, Hilton saw a dip in production in 2020, averaging a career-low 10.9 PPR/gm (WR51) on 13.6 yards per reception — the third-lowest YPR of his career. While he struggled to produce for most of the season, Hilton did hit a brief stretch of games where he averaged 22.9 PPR/gm in Weeks 12-14.