Sam Wallace and Shawn Siegele flex their dynasty draft muscles in the next round of the 2021 Superflex startup mock.
In the Dynasty Draft-Off series, Shawn Siegele and I are in a pitched battle to see who can build the best startup rosters. We'll alternate picks with each of us responsible for six squads. We're not just focusing on the best picks but trying to create the best teams.
In our first of three installments, I broke down my first two rounds and controversially avoided quarterbacks near the end of Round 1. Next, Shawn laid the foundation for a series of juggernaut teams with a blistering opening round. Finally, Shawn noted how the real work begins once the quarterback run ends.
Throughout the mock, we'll make the case for our picks, analyze draft tactics, and discuss team construction. Join Shawn and me as we debate players and use the RotoViz tools to help you create the Permanent Championship Window.
Round 3
3.01 – D'Andre Swift
I was thrilled to start the third round by selecting running back D'Andre Swift. The Detroit Lions enter the offseason with a myriad of question marks on offense and only a handful of certainties. Swift is one of those certainties. I recently wrote about why I am eager to buy more shares of Swift this offseason.
3.02 – Calvin Ridley
3.03 – DeAndre Hopkins
Wide receiver DeAndre Hopkins felt like a great value for how I was constructing this team. The addition of Adams put me in a win-now mode, so I wanted to complement that selection by adding another high-floor, high-ceiling player in Hopkins. Finishing as the WR4 in his first season with the Arizona Cardinals, it felt right bringing Deshaun Watson and Hopkins back together, even if it is just for my fantasy team. The target volume was phenomenal, and that high-level of opportunity should continue into next season.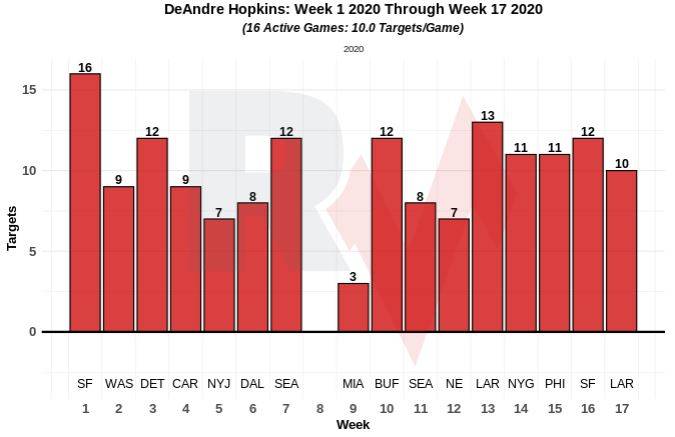 Hopkins' production did become a bit more erratic over the second half of the season, even though his opportunities remained strong. From Week 9 through the end of the season, Hopkins and his wide receiver teammates had a bottom-seven schedule according to the RotoViz Strength of Schedule Streaming App.