The 2021 NFL Draft class is not your run-of-the-mill draft class. While the positional upside at non-QB positions could leave a bit to be desired, there's a chance that we could see five quarterbacks taken in the first round of this year's draft.
As I continue to dive into best ball content and drafts, I find myself constantly questioning how we can benefit from drafting rookie QBs in this particular draft format. Last season, Justin Herbert returned a 12.4% win rate to drafters who selected him in the 22nd round of FFPC best ball drafts. And Joe Burrow got off to a hot start before suffering a season-ending injury in Week 11 as he averaged 21.3 PPR/gm over 10 games.
Using the RotoViz Best Ball Win Rate Explorer, I pulled together four years of FFPC best ball win rate data to see just how rookie QBs have affected best ball win rates over that span. The results, while surprising, offer a unique angle to roster construction that suggests embracing the unknown with rookie QBs could be a high-upside approach.
The Draft Basics
For those drafting in FFPC best ball leagues, one thing I've discovered is that I should never enter a draft without the RotoViz FFPC Roster Construction Explorer. I am unwilling to enter drafts without it.
If we look at the FFPC RCE, we see that win rates in FFPC classic best ball drafts receive a slight boost when teams go with a 3-QB build. As a matter of fact, on the surface, a three QB build in this format is the only one that returns above average (8.3%) win rates.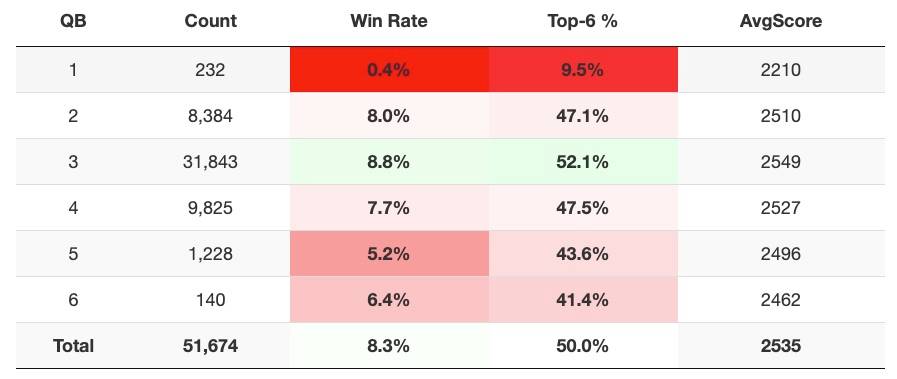 Additionally, we know that we want to wait until at least Round 6 or 7 to draft our QB1, but we also want to make sure we have secured our QB2 before Round 13 – as Shawn Siegele pointed out in his first Best Ball Workshop from 2020. In his article, Shawn also mentions how drafting your third QB before Round 13 can prove to be a hack that boosts your win rate to 10.9% with a 3-QB build (11.8% in 2020).
But what if there's not a QB3 you like before the 13th round? Or what if you simply didn't take one? Is all hope lost?
Perhaps not.